Welcome to our guide on Mailchimp. We'll break down everything you need to know about this marketing platform, including how it works, what types of businesses it's good for, and how to set up your first campaign. We'll also discuss how much Mailchimp costs and its features. 
By the time you finish this guide, you'll be equipped with all the knowledge you need to start using Mailchimp like a pro. In this quick reference guide:
What is Mailchimp?
The Basics of Email Marketing
Who is Mailchimp good for?
How to use MailChimp for email marketing?
How do I get started with MailChimp for email marketing?
How much does Mailchimp cost?
What features does Mailchimp offer?
Key Takeaways
– Learn the foundational concepts of email marketing
– Explore the basics of using Mailchimp for email campaigns
– Understand how to build and manage an email subscriber list
– Discover tips for crafting engaging email content
– Gain insights into analyzing email campaign performance
– Harness the power of email marketing to connect with your audience
– Tailor your emails for different segments and preferences
– Optimize your campaigns for improved open and click-through rates
– Implement best practices to avoid being marked as spam
– Enhance your knowledge of email marketing strategies
Why Mailchimp?
MailChimp is the world's leading email marketing service. Millions of businesses from the mom-and-pop shop down the street to Fortune 500 companies use MailChimp to connect with customers and grow their business.
Whether you're new to email marketing or a seasoned pro, MailChimp can help you create better campaigns that get results: Powerful automation tools that put your leads on autopilot, so you can focus on growing your business, Personalized campaigns that target the right people at the right time and send them offers they'll love, and Analytics to track how your campaign performs so you can make data-driven decisions in real-time.
When it comes to mastering email marketing, having the right tools and strategies at your disposal is essential. Discover the best practices in our comprehensive guide on The Best Tips and Tools for Email Marketing that can help elevate your campaigns to new heights.
The Basics Of Email Marketing
Email marketing is the use of email to promote products or services, but it's much more than that. It's using email to develop relationships with potential customers and/or clients. Email marketing is one segment of internet marketing, which encompasses online marketing via websites, social media, blogs, and more. It is essentially direct mail done electronically instead of through the postal service.
Who Is Mailchimp Good For?
 If you're new to email marketing, you may be wondering: who is Mailchimp good for?
Mailchimp is the best option for individuals, small businesses, and organizations that don't have a lot of money to spend on marketing. It's also great for organizations that are just starting and want to try their hand at email marketing without investing too much time and effort into learning how it works.
Also, MailChimp is a great tool for beginners, because it's easy to use and it doesn't require any knowledge of coding or design. Mailchimp's approach to email marketing is simple: they provide a set of tools that you can use to build an email list, send out newsletters and other types of messages, and track your results. You don't need any previous experience with email marketing just a willingness to learn!
The success of your business setup often hinges on your approach to email marketing. Learn how this powerful tool can either make or break your endeavors in our article: How Email Marketing Can Make or Break a Business Set-Up.
How To Use Mailchimp For Email Marketing
MailChimp makes it easy to get started with email marketing. If you're a beginner and want to learn how to use MailChimp, this guide will teach you everything you need to know about creating an account and setting up email campaigns for your business.
To get started, simply create a Mailchimp account. When you sign up, Mailchimp will prompt you to add information about your business, including the name of your organization and some details about your audience. They'll also ask if any specific features interest you. You can go ahead and select those now or skip this step. 
Once all of the required fields are filled out, click "Create Your Account" at the bottom of the page. Next, create a list for managing subscribers and sending campaigns. Lists let you group people by similar demographics (gender, location, age) or shared interests (helicopter parenting tips).
Adding people as subscribers to your lists means they've opted in to receive emails from your business. You can add subscribers manually or through signup forms on your website or social media platforms using "List Management" under Settings on the home page menu bar as well as by importing contacts from other services such as Google Contacts™ (Gmail™), Outlook® mailboxes etcetera if needed."
How Do I Get Started With Mailchimp Email Marketing?
Mailchimp email marketing is one of the most popular ways to reach out to your customers, with over 14 million users and subscribers worldwide. The platform has a clean, modern interface that's easy to understand and use. Here is how to get started
Get To Know Mailchimp Features
Before you get started with Mailchimp, it's a good idea to get familiar with the different tools and features. Here are some things to know before diving into your first email marketing campaign:
Plan your strategy. Before setting up a campaign, think about what you want to accomplish. What kind of content do you want to send? Do you have an audience in mind? What is their demographic? Once you know this information, it will be easier for Mailchimp's system to help create an effective strategy for your business.
Learn about email types and templates. There are several different kinds of campaigns available on Mailchimp based on how frequently emails should be sent (once per week or once per day), how many people receive each email (one person or thousands), and other factors like whether there will be images included or not. 
Each type requires its templates that allow users complete control over text size as well as appearance details such as color choice elements used within them (such as call-to-action buttons).
Add signup forms onto websites using code snippets generated by the program itself after creating one through their dashboard interface these can also track which pages visitors came from so advertisers know which ones work best when targeting subscribers later down line! This makes it easier than ever before
In an era of rapidly evolving digital strategies, email marketing remains a cornerstone of success. Explore why it continues to be the driving force in our in-depth analysis: Why Email Marketing Is Still the Future of Digital Marketing.
Plan Your Campaigns
Decide how often you want to send out emails, as well as what content you're going to include in them. Think about the goals of this campaign and what the audience wants out of it. This can be anything from getting purchases made on their website to increasing engagement with a particular service the possibilities are endless. Ensure that the plan is engaging for those receiving it (aka your subscribers). If all goes according to plan, then everything should be smooth sailing from here!
Create Your Account
Click on the link that says "Get Started."
You'll be prompted to enter your email address and create a password, as well as confirm it by entering it again in the next field.
Enter your birthday, first and last name, then choose a username for your account that you'll remember easily (like "Joe Smith").
Click on the box below that reads "I agree with Mailchimp's Terms of Use" and you're finished!
Set Up Your Audience
You've heard it before: your email list is one of your most valuable assets. Email marketing allows you to reach customers when they're ready for your product and gives you a chance to convert leads into sales. But how do you get started?
First things first, we need to talk about what an audience is, and why you need one. An audience is simply a group of people who share similar interests or preferences like if they're fans of Harry Potter and like reading YA novels. The more specific the better!
Now that we've got that cleared up, let's get into setting up your audience so that Mailchimp knows which subscribers go where (and why). Mailchimp makes it easy for anyone with basic computer skills to set up an audience in minutes using their drag-and-drop builder tool.
Upload And Organize Your Contacts
The first step in using Mailchimp is to upload and organize your contacts. You can do this from the "Contacts" tab on the left side of your screen, which will bring up a list of all of your contacts. There are several ways to add contacts:
Importing from a spreadsheet (CSV or TXT file). This method allows you to import customer data directly into Mailchimp as one or more lists.
Importing from a third-party app like Salesforce or Infusionsoft. Using this method, you'll need access to an API key that allows access to third-party apps through Mailchimp's API protocol. 
This will allow you to send emails out automatically based on specific criteria set by the program and ensure that they're sent out correctly each time! The downside? It takes some technical savvy and knowledge of how these systems work before getting started with them; if not used correctly, it could cause serious problems down the line!
With its built-in forms builder toolbox (called Form Builder), Mailchimp makes it easy for users without much technical experience to build their forms without needing any coding knowledge at all
All forms created using this toolbox will automatically sync back with their respective campaigns once approved by moderators so that no time spent creating new ones would be wasted after submitting them accidentally; even better yet: once created within the form builder tools there's no need ever again worry about losing important data stored within those fields either because everything gets saved automatically upon completion."
Crafting effective email campaigns is an art that can be perfected. Learn from the common mistakes made in emails and how to rectify them in our guide: Email the Right Way: What's Wrong with These 15 Emails and How to Fix Them.
Connect Your Store Or Website.
Here's how to connect your store or website:
Click on the "Sign up form" tab in the top menu bar and choose "Signup Form Builder." This will take you to a page where you can create an HTML-based signup form. While there is no limit to how many forms you can add, we recommend having only one or two on your site at a time so that they're easy for visitors to find and use (once they've signed up).
Once on this page, click "Click here to build a signup form now." Choose whether you want an email list, information about your business, or just general contact info for people who visit your site. Then click "Add new form" in the bottom right corner of this popup window.
Next type in what name (or names) should appear as the sender address when messages are sent from Mailchimp using this form widget this should match whatever domain name(s) are associated with sending emails through our system (for example: if joe@example.com sends messages through our system then joe@example would be entered here).
Import Or Add Contacts
Once you've got a Mailchimp account, it's time to start importing and adding contacts. Importing contacts allows you to upload them faster. If you already have an email marketing system in place, this is the way to go. Importing contacts is best when you have a lot of contacts to upload.
Learn About Privacy Laws For Email Marketing
It's important to understand that privacy laws apply to all countries, including the United States. That means you need to have consent from your contacts before you can send them emails. The rules around getting consent to vary depending on where you live and what type of business you have, but some general guidelines apply pretty much everywhere:
Make sure your contact lists only contain the email addresses of people who have consented to receive messages from you.
Include a privacy policy on your website or in another place where it is easily visible and easily accessible by anyone visiting your site (like in a link at the bottom of each page). 
That way, if someone visits one of these pages without reading through all the information first, they can still see how their personal information is being used by Mailchimp and decide whether they want their details added to our database or not.
How Much Does Mailchimp Cost?
The answer is: it depends. Mailchimp is a great, affordable option for businesses of all sizes. You can use our service for free until you reach 2,000 subscribers and if you want to send more than 12,000 emails per month, we have pricing options that are competitive with the industry.
If you're just getting started, our Starter plan is a great choice. It's free until your subscriber list reaches 2,000 people and includes features like email automation and social media integration. The Professional plan is another popular choice; it costs $10 per month and gives you access to advanced tools like A/B testing and detailed reporting.
If you have more than 2,000 subscribers and would like to send more than 12,000 emails per month, we have good news! Our Business Pro plan starts at just $20 per month (or less depending on the number of subscribers). 
It includes everything in the Professional plan plus advanced features like custom domains and higher limits on monthly email sends. If your business has more than 10 collaborators sending out campaigns every day or week or if your business has grown enough that you need multiple accounts to manage all
What Features Does Mailchimp Offer?
Mailchimp is a robust email marketing platform that allows you to create, send and monitor emails. The features it offers include:
Email templates: Mailchimp allows you to create emails with multiple designs and layouts to cater to different needs. You can also use a drag-and-drop builder for the quick creation of HTML emails.
Campaigns: With Mailchimp, you can create campaigns consisting of multiple emails and send them at once or schedule them for future delivery. The campaigns also support segmentation based on customer behavior or preferences, which helps you reach out to customers in an effective manner.
Reports: Mailchimp provides reports that help you understand how your campaign performed, including open rate, clickthrough rate, and more.
Segmentation: With the help of the segmentation, you can target specific audiences and send them relevant messages. For example, if someone subscribes to your newsletter through a link on your website then they will automatically be added as a subscriber when they enter their email address on any page that contains the same link (i.e., a blog post).
Scoring high-profile clients through email marketing requires a winning strategy. Read about a remarkable success story in our post: How I Landed an Eight-Figure Client by Email Marketing, and discover how you can achieve similar feats.
Final Thoughts
With a little creativity and planning, your email marketing campaign is guaranteed to reach new audiences and convert more sales. By following the steps above, you'll be able to start building out your automated email sequences, build trust with your subscribers, and put your products in front of people who are already interested in what you have to say.
Now that you've got all the steps for your Mailchimp campaign laid out in front of you, it's time to tackle each one individually. First things first: log back into Mailchimp. You're going to want to create an audience now!
Further Reading
Explore these additional resources to dive deeper into the world of email marketing:
Email Marketing 101: A Comprehensive Guide: Learn the fundamentals and strategies of email marketing in this comprehensive guide, covering everything from audience segmentation to crafting engaging content.
Email Marketing 101: A Noob-Friendly Guide: Discover a beginner-friendly perspective on email marketing, providing insights into building effective email campaigns and fostering customer relationships.
Mailchimp 101: Getting Started with Email Marketing: Delve into the basics of email marketing with this resource from Mailchimp, covering email list management, design tips, and campaign analytics.
People Also Ask
What Is Mailchimp?
MailChimp is an email marketing platform that helps businesses engage and grow their audiences. We provide tools for user-friendly, personalized email marketing campaign creation; advanced automation and segmentation features; detailed campaign analytics; and integration with popular CRMs, e-commerce platforms, event apps, social platforms, and more.
How Do I Create A Mailchimp Account?
To get started with Mailchimp on your desktop or laptop computer: Go to mailchimp.com/signup/. Enter your details (username, password, email address). That's it! You've created a Mailchimp account.
To get started with the mobile app: Download the Mailchimp app for iOS or Android from the App Store or Google Play Store. Open the app on your device and tap Create Account at the bottom of your screen. Enter your details (username, password) and tap Next at the top right of your screen to add an existing list to connect with your account or create a new one it's up to you.
What Are Mailchimp Alternatives?
There are many email marketing services available to small businesses that can help you grow your audience and increase engagement with your brand, including Constant Contact and AWeber. 
The key is to find the service that best fits your needs based on its features and ease of use. If you need help deciding which service is right for you, check out our comparison guide on how to choose an email marketing service provider.
Why Should I Use Mailchimp? 
MailChimp has a range of features that make it easy for you to create and send newsletters with ease. It has an intuitive interface, and you can even create your templates. If you're just starting and don't have much experience with design or coding, this can be a huge time saver! 
You can also personalize each newsletter with images and videos from your YouTube channel or website. In addition, MailChimp allows you to track the performance of each campaign so you can see which ones work best for your audience by analyzing how many people opened your email or clicked through to specific pages on your site.
How Does Email Marketing Work?
Email marketing software allows you to create an email newsletter that goes out to your customers regularly. The most common type of newsletter is called an "e-commerce" email, which includes information about new products or sales available on your site. 
Your customer may choose not to receive any more emails from you after reading this first one, but if they do end up signing up for future communication from you via this first message, then they'll begin receiving messages about other products or services that might interest them (such as coupons for discounts). 
This can lead them down the path towards making purchases from your company which means more money coming in from sales!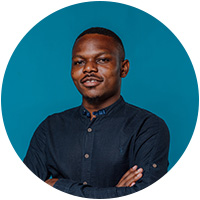 Costantine Edward is a digital marketing expert, freelance writer, and entrepreneur who helps people attain financial freedom. I've been working in marketing since I was 18 years old and have managed to build a successful career doing what I love.