Freelancing is a great way to make money. You can create your own schedule. You can work from home. And as a social media manager, you're working in an industry that's growing by leaps and bounds every day.
But sometimes it can be difficult to find work as a freelancer, especially if you are just starting out. If you're looking for new ways to make more money as a freelance social media manager, here are some tips:
Key Takeaways
1. Develop a strong personal brand online.
2. Master content creation for various platforms.
3. Leverage data analytics to refine your strategies.
4. Offer specialized services in your niche.
5. Network and collaborate with industry peers.
6. Create compelling client proposals.
7. Consistently engage and nurture your audience.
8. Stay updated with social media trends.
9. Build a diverse portfolio to showcase your work.
10. Provide exceptional customer service.
1.  Find A Niche
A lot of people—especially those who are brand new to freelancing—want to say yes to everything they possibly can. Sure, that might mean more money at first, but it's not sustainable. Say you have clients in three different industries—sports, pets, and home improvement. 
That means you have three very different types of social media accounts to manage: one for pet lovers, one for sports fans, and one for DIYers. If you're in charge of all three, you'll need to spend extra time on those accounts so you can know exactly what kind of content will work best for each audience.
Crafting compelling email marketing campaigns is an essential skill for freelancers. Whether you're promoting products or services, our guide on writing successful freelance email marketing campaigns can help you engage your audience effectively.
2. Target That Niche In Your Marketing Efforts
If you have a niche, don't have it hidden. You need to make sure that when people look at your profile, they can see what your specialty is and what industry you work with. For example, At Social Media Delivered, specialize in working with clients in the real estate industry. 
So all of their social media channels clearly state this. We also mention it on our website, in all their additional content, and when they communicate with potential clients. You want to be found online, right? So make sure your specialty is front and center!
3. Join Facebook Groups In Your Niche
You might be thinking, "Are you kidding me? Facebook groups are only for moms." But they're not! There are tons of FB professional groups out there—you just have to find them. For example, if you're into fitness, you can join Facebook groups for fitness professionals. Once you're in the group, interact with posts and comment on people's profiles. 
It doesn't matter if someone is a potential client or fellow fitness trainer; interacting with them will make them more likely to remember you later on when they need a social media manager
Freelance writers, elevate your email marketing game with these actionable tips. From subject lines to content strategy, our 11 email marketing tips will empower you to connect with your readers and clients on a whole new level.
4. Make Friends And Participate
The first step to making more money is to take advantage of the power of your network. The fact is, social media management is all about connections—and the best way to get clients is by getting your name out there to people who need your services. 
To do this, you'll want to use your networks and find some groups with active discussions on places like Facebook, LinkedIn, or Reddit. You'll want to find groups that are focused on finding social media managers—but you don't have to limit yourself! You should also check out the groups where people are discussing their challenges with social media and talking about what they need from an expert. 
Once you've found the groups where people talk about their problems, you can join in on the conversation and offer advice or suggestions. Just be sure that when you're interacting with them on these forums, you treat them like humans.
5. Start A Blog
This is an essential step for any freelancer who's serious about their career. Your blog will be your home base—it's where prospective clients will go to learn more about what you have to offer, and it's where existing clients will go for more detailed information and resources. It's also a great way for you to show off your expertise in social media management (and establish yourself as an expert in the field).
6. Focus On One Social Media Platform At A Time
One of the most common mistakes we see social media managers make is trying to specialize in too many different platforms. While it's great to have a broad understanding of the various kinds of services available, you'll earn more money and get more jobs if you focus on one particular platform. For example, if you're really good at Facebook management, focus on that! Once you've got a good foothold on Facebook, then you can start branching out into other areas.
Are you exploring opportunities in freelance email marketing? Discover 13 effective ways to monetize your skills and expertise in this dynamic field, turning your passion into a profitable venture.
7. Learn The Basics For That Platform
Before you can start offering your services, you need to learn about the platforms. There are tons of awesome YouTube videos and blog posts that will teach you how to use social media like a pro, so take advantage of these free resources. If you want to offer your services on Instagram and Twitter, then it's important that you have a solid presence on both platforms first. 
This will not only help potential clients see what kind of work they'll get when they hire you; it'll also help them see that you're active and engaged on social media (which are two things most people look for in their accounts).
8. Define Your Ideal Client For That Platform
Are they a small local business? Are they an entertainment brand that's less focused on sales and more focused on getting press and attention? Do they sell retail products in bulk or something more specialized and niche? The first step to maximizing your earnings is making sure that your clients are all cut from the same cloth. 
If they're not all selling the same product or service, then you need to segment them into groups with similar target audiences and goals. Then, craft your pitch for each group accordingly!
9. Get To Know The Influencers In That Niche On That Platform
If you want to work with clients in a particular industry, like fashion or fitness, seek out the influencers in that space on social media. Follow them and learn their style, what they post about and how they present themselves online. 
This will only take you a few minutes per account and can give you valuable insight into how the industry works and what kind of content gets the most engagement from followers. It will also help you develop a sense of which content resonates with followers, so you can create it for your own clients.
Navigating the landscape of freelance email marketing comes with its own set of hurdles. Learn how to overcome and thrive amidst these challenges by delving into our exploration of the 12 challenges faced by professionals in this domain.
10. Post Regularly On That Platform
Posting regularly on any platform is essential if you want to get noticed and grow your following. This will allow people to see what content you create, and they'll also be able to get an idea of what kind of content resonates best with your audience.
If you don't post regularly, people won't know who you are or why they should follow along with what's happening in their feed and that means no new clients for you! 
11. Build Up Your Profile And Make Yourself Known As An Expert
If you want to be able to charge top dollar for your services, you need to prove that you know what you're talking about when it comes to social media. The best way to do this is by creating content that shows off your knowledge of the industry, such as blog posts, videos, and webinars.
12. Designate A Place On Your Profile Where People Can Contact You About Services
If you want to be a freelance social media manager, your first step is to make it clear that you offer services. For example, if you have a website with your portfolio, add a button that says "Hire Me!" or "Contact Me About Services." Another option is to add a note in your social media bio that says something like, "Social Media Maven: DMs Open."
13. Create An InfoGraphic Or Some Other Kind Of Lead Magnet Offering Information
Offer advice on your blog and website in exchange for an email address, then send out a weekly newsletter with tips and tricks for your readers. You could create an infographic that provides step-by-step instructions on how to create the perfect Instagram post—and offer it up in exchange for their email address! This will help you build up a list of potential clients who might want to hire you for their own social media needs one day.
Write down all of the ways social media marketing can benefit businesses and/or individuals so that when someone asks about pricing structures or what types of services are available, they won't be caught off guard by anything unexpected. Make sure not to leave out any details because this is where most people get confused! For example: What exactly does "organic reach" mean? It means any time someone likes or comments.
14. Offer Your Services At An Attractive Price Point
The first step in making more money as a freelance social media manager is offering your services at an attractive price point. This will help you get clients who will pay you better and on time, which will improve your chances of getting repeat clients and referrals.
15. Get Certified In Your Area Of Expertise
Whether it's Twitter management or Instagram marketing, there are reputable companies offering certification programs in all the major areas of social media management. These certifications show your clients that you know what you're doing, which will help them trust you with their accounts and give them peace of mind—and that leads to more referrals, better reviews, and more money for you! If you don't already have a certification for your area of expertise, now's the time to go get it.
Ready to establish a thriving freelance email marketing business? Our comprehensive guide on building a freelance email marketing business takes you step by step through the process, equipping you with the knowledge and strategies you need for success.
Final Thoughts
At the end of the day, we're all in this together. We're not here to bash anyone or to say that we've done it all and don't need help anymore. Instead, we hope that among all of the noise out there, you'll be able to find the right words for your needs. And if you have any ideas, questions, or comments you'd like to share, feel free to reach out to us on Twitter, Facebook, or LinkedIn. If you do so, we'd love to hear from you.
Further Reading
Becoming a Freelance Social Media Manager: Learn the steps to kickstart your career as a freelance social media manager and discover strategies to succeed in this dynamic field.
Making Money as a Social Media Manager: Explore creative ways to monetize your social media management skills and generate income as a freelancer in the digital marketing realm.
How to Make Money as a Freelance Social Media Manager: Dive into actionable insights on how to turn your passion for social media into a profitable freelance business, backed by real-world examples.
People Also Ask
How Do I Get Started With Social Media Management?
There are a lot of ways to get your foot in the door and start your career as a social media manager. First, find a platform that works for you. There are several websites dedicated to connecting freelance social media managers with their clients called "marketplaces." Some of our favorites include Upwork and Fiverr. You can use these platforms to showcase your experience and skills, keep track of your work, and organize your money.
Another great way to get started is by working with friends or smaller businesses that need help managing their accounts. Getting some experience on the job will give you the tools necessary to tackle bigger projects with more demanding clients.
What Are The Skills Needed To Become Successful?
If you want to make it as a freelance social media manager, you'll need more than just an understanding of how social media works; you'll need strong communication skills, a solid understanding of what businesses want out of their social media presence, and the ability to write clearly in various tones and voices.
In addition to those skills, you'll also need good time management skills since freelancers often have multiple projects going at once. Balancing them all while still posting quality content can be tough without proper organization!
How Long Does It Take?
Though the time it takes to implement this system depends on your unique situation, we have seen clients go from having no leads to having a full calendar of work in as little as six months—though most fall somewhere in between that timeline, at about 3-4 months.
What If I Don't Know What My Ideal Client Looks Like?
You will want to review the section on defining your ideal client and ask yourself some questions like "Who do I want to work with?" or "What industry would I love to work in?" It's also helpful to think about clients you have had in the past who you were able to deliver amazing results for, and whose business you loved working with.
How Much Money Should I Charge As A Freelance Social Media Manager?
It depends on your level of experience and what you're offering, but typically somewhere between $25/hour and $150/hour.
Should I Charge By Hour Or By Project?
It depends on the project. Charging hourly for posting to Instagram is impractical, but charging an hourly rate for managing a large-scale marketing campaign might make sense. If you're doing a lot of projects for one client, you can discuss with them whether a monthly retainer is the right fit.
What Is The Easiest Way To Make More Money As A Freelance Social Media Manager?
The easiest way to start making more money as a freelance social media manager is to start working on your own platform. The more you can build in terms of skills, knowledge, and experience, the better your chances will be of landing high-paying clients.
How Do I Make More Money As A Freelance Social Media Manager?
To make more money as a freelance social media manager, you have to work on building your reputation and skill set. If you have already started freelancing in this field and are not making enough money, it is time to look into ways of increasing the amount you charge your clients.
How Do I Make More Money As A Freelance Social Media Manager?
Great question! It's important to understand the value you bring to your clients and charge accordingly. Whatever you charge should be equal to or greater than what you're worth, so it's worth it for them to hire you instead of doing it themselves.
How Do I Find New Clients?
Two words: networking, baby. You've got to get out there and meet people who might need your services or know someone who does. Be sure to focus on building real relationships so that they'll keep thinking of you in the future when they have a connection who needs a social media manager.
What Is The Difference Between A Social Media Manager And A Content Creator?
Content creators are focused on making the actual content for social media (memes, videos, etc.) Social media managers are more focused on things like growing the channels and handling customer service.
Is This Course For Beginners?
Absolutely! This course is specifically designed to teach beginners the basics of how to grow their social media accounts and get paid to do it.
What Types Of Social Media Accounts Will Do I Learn How To Grow?
All of them! Instagram, Twitter, Facebook, Pinterest—you name it. I am happy to help you learn how to grow any social media account you want. No matter the platform, the principles are the same.
How Can I Make More Money As A Freelance Social Media Manager?
Make sure that you are charging a fair rate for your services. If you don't know what you should be charging, start by finding out what other people are charging who have similar experience and skills to you.
What Is Social Media Engagement?
Social media engagement refers to the amount of interaction on a post or service. This includes likes, comments, shares, and views.
How Can I Increase My Engagement Online?
You can increase your engagement online by creating relevant and interesting content that is shareable and encourages people to comment or like it. It also helps to respond to any comments or questions in a timely manner as this will encourage others to interact with you.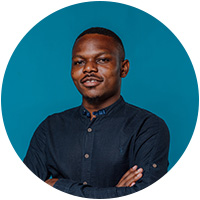 Costantine Edward is a digital marketing expert, freelance writer, and entrepreneur who helps people attain financial freedom. I've been working in marketing since I was 18 years old and have managed to build a successful career doing what I love.