I have listed them in order of how easy they are to implement so you can start with the simple ones and gradually increase your marketing efforts. It's important to note that there is no need to do all of these tactics at once; what's important is that you consistently use them.
In this post, you'll find 10 lead generation tactics to help you get more clients for your freelance business. 
Key Takeaways
1. Tailor lead gen tactics for freelance success.
2. Leverage content marketing to attract potential clients.
3. Utilize email outreach for personalized client engagement.
4. Network strategically to build valuable connections.
5. Optimize your website for lead capture and conversion.
6. Consider referral programs to tap into existing networks.
7. Utilize social media platforms for targeted outreach.
8. Attend industry events and conferences for networking.
9. Offer valuable resources to establish your expertise.
10. Implement data-driven strategies for continuous improvement.
1. Work On Your Online Reputation
81% of consumers have read online reviews to determine the quality of a local business, and the vast majority (84%) trust online reviews as much as a personal recommendation. Even if you have just started freelancing, you will have some sort of online reputation already. There are lots of websites that allow people to leave reviews about local businesses.
You can begin by checking out your existing reputation across multiple sites. You can use a tool like Yotpo to pull together all your existing client feedback in one place, or simply search for yourself on Google and check out what comes up. Get into the habit of regularly Googling yourself so you can quickly identify negative content before it affects your business.
Strengthening your freelance client base involves tactical strategies. Learn how to generate more freelance clients with 10 proven tactics that can amplify your success.
2. Get On The First Page Of Google
The first page of Google is the holy grail of search engines. It's where most people will click when looking for a business or service. So you want to get on that first page. You'll want to start by doing some keyword research and seeing how difficult it would be to get on the first page for your main keywords. 
If you think it's going to be difficult, then don't worry! There are other ways we can get on that coveted first page. If you do make it onto the first page, great! Now let's stay there and work on getting higher up in Google's rankings.
3. Guest Post
Guest posting on reputable blogs is one of the most effective ways to attract clients from your target niche. The key here is to make sure you're guest posting on a blog that targets the same audience you want to attract. A good thing to do before pitching any blog for a guest post is to have a look at their most popular articles and see what topics are most appealing for their readers. 
That's how you'll know how well-received your article would be once published, and what topic could draw in the right kind of people.
Once you find blogs that fit your needs, make sure to include a link to your website in your bio so people can easily find out more about you once they read your article. And don't forget – when writing articles for other blogs, especially ones that already have a big following, make sure it's highly engaging so people will notice it!
Looking to refine your freelance email marketing campaigns? Discover tips for writing successful freelance email marketing campaigns to boost engagement and conversions with your audience.
4. Create A Stellar Portfolio
Portfolios are incredibly important in the freelance world. They help to build your personal brand and showcase your past experience. Potential clients want to see what you're capable of before they decide to work with you. They also want to make sure you're a good fit for what they're looking for. A portfolio is a great way to show off your skills and abilities to potential clients, so it's something that should be taken seriously.
A portfolio can be anything from an actual physical folder of your work (if you're in design or graphic arts), a website or blog, or a social media profile (if you have an active community on Instagram). It's not just about the type of portfolio that works best for your industry or clientele; it's also about choosing the right platform where clients will most likely find you.
5. Get Referrals From Past Clients And Friends
Asking for referrals, especially from clients and friends, is one of the most effective ways to land new freelance clients. However, you need to know the right way to ask for a referral. After all, you don't want it to come across as desperate or needy.
The best time to ask for a referral is when you've just completed a project and your client is happy with your work. Alternatively, if you've launched a new service such as website design, ask past clients if they have any friends or colleagues who might be interested in hearing about it. Either way, make sure to briefly explain what kind of client would be an ideal fit for your offer. Whenever possible, ask for referrals in person rather than over email. This increases the chances that your referral request will actually reach its intended recipient!
Freelance writers can leverage email marketing for sustainable income. Explore 11 email marketing tips for freelance writers to enhance your skills and make a lasting impact.
6. Become A Resource For Local Media
Another way to get your name out there is by becoming a sought-after resource for journalists, bloggers and other local media outlets. If you prove that you understand how the world of journalism works and are able to deliver what they need (in a timely manner), then you will become a very useful resource. 
By being quoted in their stories, you can build up your credibility as an expert or thought leader in your industry and even attract new freelance clients. When pitching yourself as an expert source, keep the following in mind: 
Understand that journalists work on tight deadlines. If they reach out, make sure to reply as quickly as possible with relevant information they can use. Journalists and bloggers love screenshots, links to studies or statistics, etc., so include those when possible. Always be available for questions they might have follow-up questions after reading your initial response.
Go above and beyond by offering sample interview questions, headings/subheadings for the article or blog post and supporting links (for example: "Here's a great quote from my colleague about the same topic" or "Here's a link to our client study about this issue," etc.).
Do not be pushy! Let them do their job, don't ask too many questions about what angle they'll take on the story. Be polite and appreciative if they write about you… but don't get too excited if they don't!
7. Be The Best Answer To A Question On Quora, Reddit, And Similar Sites
The leader of a team is someone who can gain people's respect and build trust. A leader also doesn't have to be the best at everything, because it's impossible to be. The secret is to find something that you are really good at and then use that to become leadership material.
This is how Steve Jobs built Apple into one of the most powerful companies in history by showing everyone what he was really good at: creating products that appealed to people's love of technology. 
He started with a personal computer called the Apple II, but he didn't stop there. He released the Macintosh after he developed a mouse for it, a breakthrough in technology that was years ahead of its time. In 1998, it finally came together when his product turned out to be the best answer for a question on Quora, Reddit, and similar websites, the same questions I wanted to be answered all day long!
Establishing a successful freelance email marketing business requires expertise. Learn about the challenges of a freelance email marketer and how to navigate them for sustainable growth.
8. Take Advantage Of Fiverr's Marketing Opportunities
You should use Fiverr as a marketing channel – not just to get clients directly from your gigs, but to position yourself in the minds of your target audience. Fiverr's search engine is awesome and very effective, so creating a gig that ranks for your relevant keywords can generate leads organically. It gets even better because if you have the budget, you can also promote your services through Fiverr's Google and Facebook ads!
9. Set Up Your Website For Lead Generation
Once you get some clients, you'll want to make sure you're able to keep them coming back. That's why it's important to have a professional website set up where they can find information on what services you offer, see examples of your work, and contact you directly. If you have a mailing list set up, there are even more benefits: emailing your client base with updates about your latest projects allows them to see how active and productive you are, making them more likely to hire or re-hire you in the future.
To help get the ball rolling on building an effective website for lead generation:
Make sure to include links to your social media accounts. This will allow prospects who come across your site from multiple channels (ie Twitter or Facebook) to easily find all their options for contacting or following up with you. Also be sure that those social media accounts link back directly back to your website so that anyone who sees one of those platforms will know where they can go if they're interested in learning more about what services might be available through it.
Create a blog section where you can share ideas both directly and tangentially related; 
Don't forget an 'About Me' page. There are very few things as important as making sure prospects know what makes up their personality. The same goes for an individual freelancer or company trying its best when it comes time for selling itself via an online presence.
10. Build Relationships First, Then Pitch Later
The most important thing to keep in mind is this: people buy from people. Yes, you may have the best product or service on the market but if you can't sell it, then your business will (and should) fail. Your clients will probably be more than happy to pay for your service/product as long as they consider you as a fellow human being first and foremost.
With that in mind, what are some ways that we can build relationships with our potential clients?
You can use these tactics to improve your freelance business or at least get some really nice clients. As a freelancer, it's really important to get clients. The more clients you can attract, the better your business is going to be. Potential clients are out there, but you have to go after them in a systematic way that gets results.
Freelancers can master the art of email marketing for client acquisition. Discover how to build a freelance email marketing business and effectively position yourself for increased referrals and sales.
Wrapping Up 
You've now been equipped with a bounty of effective methods for generating more freelance clients. These methods can be used in combination, and you're sure to uncover even more tactics as you continue your search for freelancing success. Of course, this list is not exhaustive. There are many ways to reach potential new clients, some of which haven't even been invented yet!
Keep in mind that the most important piece of equipment is you: your skill, your drive, your personality, and the will to succeed that shines through in everything you do. If you use these freelance tricks with passion and careful consideration of their application to your specific situation, there's no limit on how far they'll take you even if that means all the way to the top (whatever that may mean for you)!
Further Reading
Lead Generation Strategies for SaaS Startups Short Description: Explore effective lead generation strategies tailored specifically for SaaS startups to maximize customer acquisition and growth.
Freelance Digital Marketing: Tips and Insights Short Description: Learn valuable insights and tips for succeeding in the field of freelance digital marketing, covering various aspects of client engagement and project management.
10 Effective Strategies to Help You with Lead Generation Short Description: Discover ten proven strategies that can boost your lead generation efforts, providing you with actionable insights to enhance your marketing initiatives.
People Also Ask
What Is Lead Generation In Business?
Lead generation is the process of finding people (leads) who're likely to become your customers immediately or in the future. "Finding" people implies finding information about people, like their name, email ID or organization's name, all of which you can use to initiate a business relationship with them. You can generate leads organically and/or by spending money, depending on your resources.
Where Can I Find Freelance Work?
There are now more ways than ever to find freelancing jobs online. Whether you have an established freelance career you'd like to take beyond chat rooms and social media sites, or you're brand new and just dipping your toes into self-employment for the first time, there's a wealth of talent-hiring options at your fingertips all it takes is an internet connection and some initiative.
What Is Lead Generation In Marketing?
Lead generation describes the marketing process of stimulating and capturing interest in a product or service for the purpose of developing a sales pipeline. Lead generation often uses digital channels and has been undergoing substantial changes in recent years from the rise of new online and social techniques.
How Do I Generate Freelance Clients?
The best way to generate clients is by doing what we call "lead generation." This is the process of finding prospective clients and pitching them on your services. Some people find this intimidating, but it's actually a lot easier than you think!
Do I Have To Do Everything Myself?
No! You can delegate some of your work to other freelancers if you'd like, which can save time and money for both parties involved. The key is making sure the person you're hiring has the right skill set for the job at hand so they don't end up falling short once they start working on projects together as part of their team (and also so they don't take advantage of others' hard work).
How Can I Generate More Freelance Clients?
It's all about the hustle! You have to put yourself out there and make yourself known to potential clients. That means networking at conferences, reaching out to people you know in your industry, and making sure your website is optimized for search engines.
How Do I Know What Kind Of Freelance Project To Take On Next?
The best way to know is by asking yourself what kinds of projects interest you most and then looking for opportunities in those spaces. If you're interested in working on things that involve data science, look at job listings that mention data science and reach out to people who are hiring for those roles even if it's not exactly what they're looking for now, but something along those lines might be soon.
What Are Some Tactics For Generating More Leads Outside My Network?
One tactic is cold calling: calling up companies that don't know you personally and introducing yourself as a freelancer who could help them with their needs. Another tactic is reaching out via email: sending an introductory email explaining why you're contacting them (for example, "I'm a full-stack developer with 5 years of experience")
How Can I Use Video To Generate More Freelance Clients?
Video is one of the most powerful ways to show off your skills, and it's also a great way to connect with potential clients. Whether you're selling yourself or your product, a short video can let potential customers get to know you better and see what you do and there are a number of different ways you can use video in your marketing efforts. 
You can create a video that shows how your product works and why it's important; you can create an explainer video that introduces your company and its products, or you can create a short video that demonstrates what kind of work you do (which could be helpful if you're working on projects with specific requirements).
What If I'm Not A Salesperson?
You're not alone! The fact is, most of us are not trained to be great salespeople. But here's what we can do: we can start by learning. There are tons of free resources out there that will walk you through the basics of sales, like how to write an effective email and close the deal. I
f you're looking for something more formal, you can check out this online course on Udemy, which teaches you how to become a freelance copywriter in just 5 weeks by teaching you how to use SEO, content marketing strategies, and more. All of these are valuable skills that anyone can learn from a place at any time and they'll help you land more clients.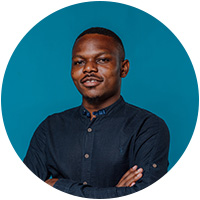 Costantine Edward is a digital marketing expert, freelance writer, and entrepreneur who helps people attain financial freedom. I've been working in marketing since I was 18 years old and have managed to build a successful career doing what I love.