If you're reading this article, chances are you already know what LinkedIn is. For those who don't, it's a social network that allows users to build and share their resumes, connect with other professionals, and join industry-related groups.
Also, you might also be familiar with the term "lead generation." In this context, it refers to the process of attracting and converting strangers into potential customers or clients. While not all leads convert into sales, lead generation is still an essential marketing skill for bringing in new business.
In this article, we'll begin by exploring 14 different ways you can use LinkedIn to generate leads for your business then move into some more advanced tips for using the platform effectively.
Takeaways
1. Optimize your LinkedIn profile with relevant keywords.
2. Join LinkedIn groups in your industry to expand your network.
3. Share valuable content to showcase your expertise.
4. Utilize LinkedIn's Advanced Search to find potential leads.
5. Connect with decision-makers and engage in meaningful conversations.
6. Participate in LinkedIn discussions to establish thought leadership.
7. Use LinkedIn's publishing platform to share in-depth articles.
8. Leverage LinkedIn's sponsored content for targeted advertising.
9. Create a company page to promote your business and offerings.
10. Offer value by sharing industry insights and solving problems.
1. Determine Your Target Audience
You cannot successfully use LinkedIn for lead generation if you don't first determine your target audience. Your business may have a product that is useful to a lot of people, but your target audience isn't everyone. Your target audience consists of those who are most likely interested in your product, and therefore the most likely to become valuable leads.
Knowing who your target audience is gives you an idea of what kind of content you should be creating, and how to get that content in front of them on LinkedIn. For example, one client we work with developed a new way for companies to search for office space. Their ideal customer is anyone looking for office space but because it's such a broad topic, we made it more targeted by identifying the different types of industries affected by this one common problem (finding office space).
When it comes to lead generation strategies, LinkedIn offers a goldmine of opportunities. Discover our comprehensive guide on 14 Ways to Use LinkedIn for Lead Generation and learn how to harness its power to grow your business
2. Create A Compelling Company Page
Creating a compelling LinkedIn Company Page is your first step. This is where you can add a photo, a description of your business, your web address, and more. It's where you can also add a showcase page to highlight your offerings. You should fill it out completely and make sure that the information is correct and up to date so that potential clients can find you easily.
Showcase Pages are designed for businesses with multiple offerings or products that want to show different content to different audiences. You can create as many showcase pages as you want (as long as they relate to the main company page) and they're free!  They're great ways to share updates about each product or service, educate people about what you offer, and build credibility by making recommendations from customers available for others to read.
The more followers on each showcase page the better since it shows legitimacy when someone does a Google search for your services or offers. It also increases the likelihood that people will see your posts in their newsfeeds because LinkedIn will promote them since people have opted-in for updates from those specific products or services rather than just blindly following all updates from your company (this happens frequently).
3. Incorporate Calls-To-Action (Ctas)
It's important that you make it easy for people to contact you or your business after they visit your LinkedIn page. Here are a few ways to incorporate calls-to-action:
Make sure your company page has a CTA. With the new Company Pages, there's an option to add a call-to-action button. If you've already got your page set up, check out the Admin Tools and see if there's an option under Page Settings. Often CTAs can be linked directly to websites, forms, ebooks, and more.
Link to your website. By adding links on your About section or other areas of the profile (summary, experience), people will have a direct line of communication to get in touch with you about their needs and questions.
Use the "contact us" button. When setting up Company Pages on LinkedIn, there is an optional "Contact Us" tab that allows users who visit the page to send messages directly without leaving LinkedIn – this is great for companies with high customer service inquiries!
Turning your freelance email marketing efforts into a profitable venture involves more than just sending emails. Explore insightful tips on getting clients to pay you for freelance email marketing and ensure your hard work is duly rewarded.
4. Make Yourself And Your Team Easy To Find
Include all contact information on your profile that you would like to make available to potential clients, such as your phone number, email address, website link, and company address. You can add a phone number by clicking the pencil icon next to "Contact Info" on the right side of your profile page. Then click Edit next to "Phone Number" and enter your phone number. You can also add an email address or website link here as well.
Under the featured section on your homepage, you can list multiple locations for your business if you have them and a URL for each location so prospective clients can easily find you no matter where they are located. Be sure to upload a professional headshot of yourself as well so people immediately recognize you when they see you!
5. Maintain A Balanced Mix Of Personal And Company Content
A balanced mix of personal and company content is essential to growing your presence on LinkedIn. Let's start with why it's so important to separate the two: Your prospects don't want to be sold anything and People buy from people they know, like, and trust (this isn't new!).
Social selling is all about communicating in a genuine way with prospects. In order to maintain this balance, you can follow the rule that's often cited in Facebook advertising guidelines: 80-20. This means splitting up your content into roughly 80% education/information and 20% promotion of your company or products. With LinkedIn specifically, I suggest breaking it down even further: 25% personal branding/education, 50% industry news/information, 25% promotions for your business.
By creating a plan for what types of content you'll be sharing each day on LinkedIn as well as how often you'll be posting promotional content versus educational content for instance, you're more likely to attract quality followers that will eventually convert into leads.
In a digital world, social media is a prime avenue for business growth. Discover the myriad advantages of hiring a social media manager in our article about how social media managers can benefit your business and take your brand to new heights.
6. Leverage Influencer Content With Linkedin Publisher Posts
By strategically asking industry influencers to publish on your LinkedIn Page, you can share their content for them and save them some time. Find industry influencers by searching relevant keywords in LinkedIn. Look through their articles, find the most popular ones, and ask if they'd be up for publishing a piece on your page as well. 
If they agree to share their article with you, make sure to give credit where it's due when posting it (such as including a link to their account or sharing it directly from theirs). You'll be getting more eyes on your page while also establishing yourself as someone who has connections within the industry a win-win!
7. Use Video Content To Sell Your Story
Video is a great way to engage your audience. You'll stand out from the crowd and bring your brand to life. If you don't have a lot of experience with filming or editing, a tool like Animoto can help you create professional-looking videos in minutes.
Use LinkedIn video to tell your story; Video is a great way to engage with your audience. Posting video on LinkedIn can help introduce you and your company to other members of the community, much like posting status updates do for Facebook users. Think about it as an opportunity to highlight a product or service that you offer or even share something interesting about yourself that would otherwise be hard for others to see just by reading through your profile description."
8. Send Connection Requests To Target Audiences
Once you've been active on LinkedIn for a while, you'll find that you have a network of connections. These connections can be helpful for lead generation, but only if they are the right people. You need to connect with people who may be interested in your product or service.
Look for and send connection requests to these people: People who liked your content; People in your targeted industries and People in your targeted locations. It's important to make sure that you have a complete profile before making this outreach, because they will likely check out your profile before connecting with you.
While outsourcing can be beneficial, it's important to understand its limitations. Dive into the article on 12 reasons why you shouldn't outsource lead generation to make informed decisions about the best strategies for your business.
9. Claim Your Slice Of The Search Results Pie With Status Updates And Native Videos
Post a status update; You can post a status update to your profile by clicking on the "Status" updates link at the top of your LinkedIn feed. Then, fill in the text box and click "Post." You can also upload an image to accompany your post. The image then appears as part of the preview snippet on your update in LinkedIn search results.
Create native videos; Native videos are one of LinkedIn's newest features and they have their own section in search results, which makes them stand out from text updates and images (although you can still upload images with those). You can only create native videos through mobile devices right now, but you can find instructions here.
10. Determine The Right UTM Parameters
If you want to see how many people are visiting your landing page via LinkedIn, including which specific posts led directly to traffic and conversions, you'll need to set up UTM parameters for each post that links back to your landing page or website. 
If that sentence made no sense whatsoever, check out this guide to Google Analytics for business owners for more information about UTM parameters (including what they look like when written) and how to use them. When setting up UTMs for searches on LinkedIn specifically, I recommend using medium=LinkedIn-search-results as one of the parameters so you know exactly where your traffic is coming from when looking at Google Analytics reports later on.
12. Don't Be Afraid To Ask For Help From 3rd Party Applications
LinkedIn has a lot of new features that make it easier for you to get your message out, but you don't have to go it alone. There are plenty of tools available that will help automate your account and let you reap the benefits.
Some of these include:
Tools that monitor your account and alert you when someone interacts with your content
Tools that manage your messages so they seem less automated when they reach prospects
Tools that help you schedule your posts and keep them on-brand
Integrate LinkedIn with Other Social Platforms (Twitter, Facebook, Instagram, etc.)
Social media is all about integration. If you want to get the most out of your LinkedIn marketing, you'll need to think of it as one element of a larger social media strategy rather than an isolated channel. Incorporating your LinkedIn account with other platforms will help maximize the reach and effectiveness of your content. Benefits include:
Increased lead generation potential: The more sites where your prospects can find you, the more potential leads you'll generate. Drive traffic from Twitter or Facebook to LinkedIn, and vice versa, with integrated posts that contain cross-promotional links.
Improved content management: With so many platforms at play in a single campaign, managing all those accounts can feel like a lot of work. But integrating them makes it easier to manage them as a whole and view results for each platform individually. Use an automation tool like Hootsuite or Buffer to schedule posts on multiple channels simultaneously and save time in the process!
13. Post Relevant Linkedin Articles
Posts can also be used to engage with other people's content. With LinkedIn, you do not have to worry about using hashtags and Twitter handles the way you would with a post on Facebook or Twitter. If there is an article that addresses a topic your audience will find helpful and relevant, share it.
This shows your audience that you are knowledgeable in the industry and care about giving them useful information. If someone already has great content out there on a subject you want to address, help them spread it around. It also helps build relationships with thought leaders in your industry, as they are more likely to reciprocate the favor by sharing your posts as well.
14. Monitor And Respond To Incoming Messages
To see if people are interacting with you, select "My Network" in the top right-hand corner and then click on "Notifications." There are two types of notifications you'll receive: a star and an envelope. 
The star means someone has liked your comment or content (such as a picture). It looks like this: If you see an envelope, that means someone sent you a message. It looks like this; It's important to check these messages frequently so your response rate stays high. Think of it like dating; if you're interested in connecting with someone on LinkedIn, you'll want to respond as soon as possible!
Considering a shift to freelance lead generation? Gain insights from a professional perspective in our piece on why I turned to freelance lead generation and why you should for a clearer understanding of the benefits and potential outcomes.
Final Thoughts 
LinkedIn offers tremendous opportunities for businesses looking to generate leads. If you're not taking advantage of the platform yet, take note: Be sure your LinkedIn profile is complete and up-to-date. It should include keywords that make it easier for people to find you when they search. Use a professional photo, preferably one that was taken by a photographer. Don't use a stock photo or a selfie from your wedding. We hope these tips will help you take full advantage of LinkedIn for lead generation. Best of luck!
Further Reading
Ways to Use LinkedIn for Lead Generation Short Description: Explore a comprehensive guide on leveraging LinkedIn for effective lead generation strategies, providing insights into various methods to boost your business prospects.
How to Effectively Use LinkedIn for B2B Lead Generation Short Description: Discover expert insights and practical tips on utilizing LinkedIn to its full potential for successful B2B lead generation, ensuring your efforts yield meaningful connections.
Generating Leads on LinkedIn: A Comprehensive Guide Short Description: Delve into a detailed guide that outlines effective approaches to generate leads on LinkedIn, equipping you with actionable strategies to boost your lead generation efforts.
People Also Ask 
What Is The Best Way To Get Leads On Linkedin?
That depends on your goals. Do you want to grow your email list, generate sales, or something else? But generally speaking, you want to develop a clearly defined value proposition for potential clients and then target them with advertising. If you don't know your audience yet, start by learning more about who they are and make sure you're asking yourself the right questions. (This post has some good ones.)
How Do I Generate Leads On Linkedin?
Create a strong profile and use it to attract connections you're interested in doing business with. Then consistently send out value-added messaging like video content or how-to articles to nurture those connections until they become sales opportunities. You can also try paid advertising to get in front of even more prospects. This guide has all the details!
How Do I Generate Leads For My Business?
A strong client base will be essential for making money on LinkedIn over the long term. So when it comes down to it, it's all about building relationships that are built on trust and mutual benefit: You help them succeed, they help you do so in turn.
What Types Of Leads Do I Get From Using Linkedin?
LinkedIn is an especially good platform for B2B marketers because it helps them generate leads in three distinct areas: job seekers, sales referrals and clients who are already in business with you but need more products or services (also known as "upsells")
How Do I Start Generating Leads?
There are lots of ways to generate leads on LinkedIn, but one of the best is through your company page. If you're not sure how to set up a company page, here are some tips: create an account on LinkedIn using your business name; select "company" under "what type of business;" then fill out the form with information about your company including address, phone number and website URL. Once this is done, you'll be able to create an attractive page that includes photos and videos as well as text descriptions of your products/services so users can learn more about what makes you unique!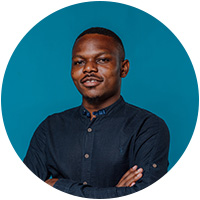 Costantine Edward is a digital marketing expert, freelance writer, and entrepreneur who helps people attain financial freedom. I've been working in marketing since I was 18 years old and have managed to build a successful career doing what I love.