I have a very simple rule: Everyone is entitled to my opinion. And I mean everyone, including those who report to me or work on the same team. I'm always open to hearing their opinions and critiques of me, of my team, or our organization as a whole. 
If there's an issue that needs fixing, if we could be doing something better, if there's something they feel they're not getting out of their job, I want to hear it even if it's uncomfortable for me. 
If my response to negative feedback is anything other than "thank you for sharing this," then I haven't done my job as a leader well enough.
Key Takeaways
Embracing negative feedback is a proactive approach to personal and professional growth.
Negative feedback provides valuable insights for improvement and innovation.
Expecting and using negative feedback helps to refine strategies and decisions.
It's important to view negative feedback as a learning opportunity, not a setback.
Incorporating negative feedback can lead to better outcomes and enhanced performance.
How I Learned To Embrace Negative Feedback
I used to be very defensive about negative feedback. Sounds silly, but it's true!
When I was younger, I would take negative feedback personally and assume it meant that the person didn't like me. Or maybe they were just jealous or trying to degrade my work? 
It wasn't until I learned how valuable negative feedback can be for your career and success that I was able to start opening up to receiving it.
Nowadays, if someone gives me any kind of criticism whatsoever (and especially if it's public), my first thought is "Thank you."
Embracing the challenges in marketing research is essential for growth. Learn valuable insights on how to address the biggest challenges on marketing research and turn them into opportunities for success.
Every Job Is Going To Have Problems And Issues
Nobody likes to hear about problems and issues, but it's inevitable. No job is perfect and no company is without its flaws. If you can't accept that, then you should probably stop reading this article now and pursue another career path.
That said, even if a problem or issue isn't negative per se, it doesn't mean that dealing with it will be easy or pleasant. It could be something as simple as a client who needs an additional feature added to their product that requires additional development time (an expense). 
Or maybe it's more complicated than that: your team needs to work at least another week before they can release the product because there are some major bugs in the back-end code (a delay in revenue). 
It all depends on what kind of workplace culture your company has created for itself.
One where everyone understands that problems come along with every job and everyone knows how best to deal with them when they do arise? Or do people just assume everything will turn out fine anyway?
Negative Feedback Shouldn't Be A Personal Attack
It's easy to take negative feedback personally, but you should never assume that it's about you as an individual. It's not. Negative feedback is usually just a sign of something not working well within the current system and that needs to be changed for things to improve.
The next time someone gives you some harsh criticism, think of it as an opportunity rather than something that puts your worth into question: if there are problems with how things are currently being done.
This means that now is the perfect time for people like you with fresh eyes and no attachments to come up with innovative solutions!
Your perception of customer desires can shape your strategies. Discover how understanding that what you think your customers want may change everything you do can lead to more effective marketing decisions.
Every Leader Should Want To Hear What's Wrong With Their Team And Their Organization
Understand that negative feedback isn't a personal attack. People are generally afraid of giving this type of feedback because they don't want to offend anyone, but it's important for you as the leader to know what's going on in your company so that you can make changes if necessary. 
If people feel comfortable coming forward with critical comments, then it means they trust you enough not to take offense when hearing something like "I don't think this idea is working" or "I'm not sure about how well we're communicating."
You Can't Fix What You Don't Know About
Improve by measuring and understanding your performance against goals and objectives (as well as those of competitors).
Acknowledge that negative thoughts exist and use them as opportunities for improvement; recognize and reward those who deliver tough love so everyone knows they're part of the solution not just part of the problem!
Negative Feedback Should Always Come With Constructive Suggestions For Improvement
There are a few things to keep in mind when you're delivering negative feedback:
It's not personal. Negative feedback is never about the person who delivers it; it's about what needs to be done. If you've ever been on the receiving end of negative feedback, then you'll know that it can feel incredibly personal and hurtful but that feeling comes from within yourself. 
It doesn't mean anything about your value as a person, or even your ability to do the job well (which is why constructive criticism should always come with suggestions for improvement).
Be specific. Don't just say "this isn't good enough." Instead, tell them exactly what they need to improve upon: "I'm not convinced by this argument," or "You have too much text here." 
This will help them learn how they could do better next time and perhaps avoid falling into similar problems in other projects down the line!
Negative feedback isn't an obstacle, but a stepping stone. Learn why hating marketing research means you're doing it all wrong and how to harness its power to drive improvements and innovation.
Be Open To The Possibility That You Could Be Wrong Or Are Missing Something
Be open to the possibility that you could be wrong or are missing something. The moment we start thinking of ourselves as experts, we stop learning.
A lot of people avoid negative feedback because they don't want to admit they may have made a mistake. 
That's understandable, but it can also lead us down a road where we're not willing to take in new information from others because we're too busy defending our position.
So hard that we refuse to consider any other point of view except our own. If you think about it, this is exactly how most political debates go and no one likes those!
Listening Is Not A Passive Practice, It Is An Active One
It is important to note that listening is not a passive practice, it is an active one. Listening requires active engagement with the speaker and their message.
Listening is not just about hearing the words being spoken; it involves hearing what they are saying, paying attention to their tone of voice and body language, too. 
If you can do this effectively then you have a much better chance of understanding what they mean rather than simply processing words on their merit.
This means that if someone tells you something negative about your work then don't get defensive or upset because that won't help anything!
You Don't Have To Agree With Everything, But You Do Need To Listen To Everything
Listening is not a passive practice. It's an active one, and it involves putting in the work to truly hear what someone has to say. 
Listening means listening to everything, not just the positives, but also the negatives; not just facts and figures, but also feelings surrounding those facts and figures; not just good ideas, but also bad ones (because they can teach you something).
When someone gives you feedback that isn't exactly what you want to hear or doesn't align with your perspective on things, resists the urge to defend yourself or argue with what's being said about your work or abilities: 
Instead, try simply listening without judging them or their words until they finish speaking. 
Permit yourself not only to listen deeply but also to allow yourself time afterward for any thoughts that may arise during this process to have more room than usual before making any conclusions!
I Expect My Team Members To Be Honest About Their Experiences And Their Feelings About the Work
I don't avoid negative feedback and I don't avoid asking for it. I expect it and I embrace it. To be successful in business you have to know what's working and what's not working so that you can improve your results. There are a few ways to go about getting critical information:
Ask your team members if they feel like they're performing up to their potential (and why or why not)
Acknowledging inconvenient truths can refine your marketing approach. Dive into the reality of marketing research with insights from the inconvenient truth of marketing research to enhance your decision-making processes.
Ask Yourself If There Is Anything You Could Do Better As A Leader
Ask others who aren't on your team but interact with them regularly how they feel about the company or organization (customers, vendors, etc.)
If you're the leader, people will only be honest with you if they trust you and know that you'll listen and take action based on their input.
But listening isn't passive. It's an active process that requires you to be present and engaged, not just waiting for your turn to talk. 
Listening is more than just hearing the words someone says it's also about understanding what they mean by those words, and how they feel about the situation at hand.
Listening doesn't mean agreeing with everything someone has to say (although good leaders should listen carefully enough that they understand where people are coming from). 
It does mean, however, paying attention to what other people have to say and considering it seriously enough that you can use it constructively moving forward.
If You Let Your Ego Get In The Way Of Listening, You'll Miss Out On A Lot Of Good Input From People Who Care About Your Success
When you're listening, you're not just hearing what the other person is saying. You are actively engaging with them and that's a very powerful thing. It doesn't mean agreeing with everything they say or feeling like you have to let them win every argument. 
It means understanding where they are coming from and empathizing with their feelings/points of view. And it means letting them know that you hear them and accept that person as human.
This kind of active listening is what makes a great leader: someone who can create an environment where people feel safe enough to share their ideas, even if those ideas might challenge the leader's point of view (or ego). 
If your ego gets in the way of listening, then yes you may miss out on some good input from people who care about your success as a leader! 
Listening for feedback should never be seen as an opportunity for a personal attack but rather an opportunity for growth by showing compassion towards others' points of view so we can all grow together!
Success in marketing research hinges on optimization strategies. Uncover valuable tips on optimizing marketing research to get the answers you need and enhance the quality and impact of your research outcomes.
Conclusion
I think that anyone in a leadership position needs to be open to negative feedback as part of the job. It's not easy, but it's necessary. 
Hopefully, our readers here are convinced that this is true and can start incorporating some of these tips into their management styles next time they head into work!
Further Reading
Here are some additional resources to explore for further insights on handling negative feedback and improving your response strategies:
How to Professionally Respond to Negative Feedback at Work Learn effective techniques for professionally addressing and leveraging negative feedback in a work environment.
Negative Feedback: How to Use it to Your Advantage Discover ways to turn negative feedback into opportunities for growth and personal development, fostering a positive mindset.
Giving Constructive Criticism Without Damaging Relationships Explore strategies for delivering negative feedback to colleagues while maintaining a healthy working relationship.
FAQs
How can I handle negative feedback at work professionally?
Responding to negative feedback at work requires active listening, understanding the feedback's context, and addressing it constructively. Focus on learning from the feedback to improve your performance.
How can negative feedback be beneficial for personal growth?
Negative feedback offers opportunities for self-reflection and improvement. It highlights areas that need attention, allowing you to develop new skills and enhance existing ones.
What are some strategies for giving negative feedback without straining relationships?
When providing negative feedback to coworkers, emphasize the specific behavior or issue, provide constructive suggestions, and frame the conversation in a way that promotes growth rather than blame.
How can I maintain a positive mindset when receiving negative feedback?
Shifting your perspective can help. View negative feedback as a chance to learn and develop, acknowledging that everyone has areas for improvement.
How do I ensure that negative feedback doesn't discourage me?
Remember that negative feedback is part of the growth process. Instead of letting it discourage you, channel it into motivation to prove your ability to adapt and overcome challenges.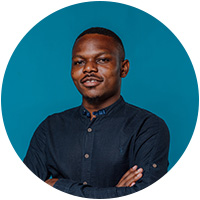 Costantine Edward is a digital marketing expert, freelance writer, and entrepreneur who helps people attain financial freedom. I've been working in marketing since I was 18 years old and have managed to build a successful career doing what I love.