Are you looking to become a freelance email marketer? Do you want to know how to get any client you want? Then this is the article for you.
Follow these simple steps and you'll be on your way to becoming a successful freelance email marketer in no time!
Takeaways
1. Develop a compelling portfolio showcasing your email marketing skills.
2. Identify and target your ideal clients through research and segmentation.
3. Craft personalized pitches that highlight how your services can solve clients' pain points.
4. Build a strong online presence to establish credibility and attract potential clients.
5. Leverage networking opportunities to connect with potential clients and industry peers.
6. Showcase your results and case studies to demonstrate the value you can bring to clients.
7. Continuous learning and staying updated with email marketing trends is essential.
8. Focus on building long-term relationships with clients for repeat business and referrals.
9. Implement effective communication and negotiation skills to secure client agreements.
10. Provide exceptional service and deliver on your promises to build a reputable brand.
1. Get With The Program
Check out the data. Email marketing consistently returns an impressive ROI for businesses. Email marketing is 40 times more effective at acquiring new customers than Facebook or Twitter (Source: McKinsey). That's because people are on email all day long (I know I am), and it's one of the most personal forms of communication. It also has an insane amount of reach.
There are about 4 billion email accounts in the world (Source: Radicati), and that number is expected to grow to over 5 billion by 2020 (Source: The Radicati Group, Inc.). But don't be fooled into thinking this means anyone can do it. There is a science to getting email right and if you don't understand that science, your emails won't convert.
Exploring various income streams is crucial for any freelancer. Learn about different ways to make money as a freelance email marketer to maximize your earnings potential.
2. Make A Decision
As a new email marketer, you probably have mixed feelings about becoming your boss. It's easy to see why:
You can work from home.
You can set your hours.
You won't have to deal with pesky bosses and coworkers.
Who wouldn't love that? But being a freelancer isn't all sunshine and roses you will have to deal with client management, taxes, and finding clients in the first place! However, if you're ready for a change of pace (and even more money), here are some tips to help you get started as an email marketer ASAP.
3. Learn The Skills You Need
Let's talk about how you can start building your confidence, trust, and credibility as an email marketer. You need to learn the skills that will help you succeed in this role. The most important skill any email marketer should have is the ability to write compelling email copy. You'll also need to know how to design and set up an entire email campaign (automated or not), analyze the results of your email campaigns, create solid email lists and finally use some sort of software platform for sending your emails.
Setting up a successful freelance email marketing business requires careful planning. Discover essential steps and strategies in our guide on how to build a freelance email marketing business to create a solid foundation for your venture.
4.  Research Your Market And Understand What It's Looking For
The next step in how to become a freelance email marketer is to research your market and understand what it's looking for. This will help you understand your target audience, the business you're marketing to, and their competition.
For example, if you're going to be creating an email marketing campaign for a company that sells shoes online, you'll want to know more about the people who purchase shoes from this company. You might even consider talking to current or former customers of that company. By talking with them, you'll be able to learn more about the challenges they are facing as shoppers, as well as their shopping preferences and habits."
5. Create A Portfolio And Website
Here's a list of things to consider when setting up your website:
What kind of website builder you'll use. Squarespace, Wix, and Weebly are common solutions. All offer easy-to-use platforms that have great visual themes and customizable designs. How you'll display your work. You might want to create a dedicated portfolio page dedicated to highlighting all the different emails you've created and sent to clients in the past. 
Instead of this, or in addition to this, you might choose to include screenshots of these emails along with case-studies detailing how effective your work was for the clients you worked with before. You could even start an email newsletter and include links back to your site on every issue so interested people can check out more about who's behind the messages they're receiving in their inboxes each week.
How easy it will be for visitors to navigate through your site from one section to another; ideally, there should be clear links between each page that allow users to access information quickly without any technical know-how needed on their part at all times. 
This also means making sure navigation bars don't overlap other content so nothing gets cut off when someone scrolls down too far or accidentally clicks somewhere else while trying their best not simply clicking "back" without reading anything more than these paragraphs have read (which we hope they do!)
6. Create Some Sample Work That You Can Use To Show Potential Clients What You Can Do
The next step is to create some sample work that you can use to show potential clients what you can do. Some examples of the type of sample work you should be creating are: Sample campaigns; Sample emails; Sample landing pages; Sample lead magnets;
A sample email marketing funnel (the whole thing, not just specific parts); A sample email newsletter (again, the whole thing, not just specific parts); Social media posts (Facebook and Instagram ads are popular with most businesses and brands); Email sequences that encourage people to buy a product or service and Sales pages for your products and services
You don't need a marketing background to excel in freelance email marketing. Explore valuable insights and tips in our article on email marketing for non-marketers to become a successful freelancer in this field.
7. Network With Other People Who Are Already Doing Freelance Work
Don't be afraid to reach out to people. Reach out to local colleges and universities when you're beginning your freelance career, as they can be a great source of high-paying clients. You should also ask for referrals from friends who may know of companies who are looking for quality email marketers.
Ask to meet up in person or over the phone to discuss work opportunities. It's much easier for a potential client to say yes when you're right in front of them (or over the phone). Make sure you have your portfolio ready so that they can easily peruse it, and come prepared with questions if they agree to meet with you.
Get their advice on how they got started and what they recommend. If you do meet with other freelance email marketers, ask them how they got started freelancing and what their biggest challenges were so that you can learn from their experiences and avoid making the same mistakes.
8. Contact Businesses That Would Benefit From Your Services
Now is where you get to put that email script to use. The next step is contacting businesses that would benefit from your services. The best way to do this is through the contact form on their website, if they have one, or via LinkedIn if they don't. If you already understand what type of business you want to work for, then send them an email.
Don't let rejection get you down; most businesses don't have a full-time email marketer, but they would like to. Be persistent and follow up regularly but not annoyingly so and try not to take it personally if someone turns you down.* Remember: You know that your services are valuable and that there are many businesses out there who need your help you just haven't found them yet.
9. Keep Track Of Your Contacts So You Know Who Is Still Interested
This step is vital. It's important to keep track of who you've reached out to and what their response was. If a potential client doesn't answer your inquiry, you need to know whether or not to follow up. After all, a lack of response may mean you have the wrong contact info for them or that they are simply busy and need more time to get back to you.
If you have contacted someone who has said no to working with you (or if someone has ghosted your email), then record that information so that you don't waste time by reaching out again later on. This also prevents you from getting discouraged if it turns out that several people before this one have already said no because at least now, you know there's an end in sight! And it can only go up from here!
Turning freelance email marketing into a full-time income requires dedication and strategy. Learn how to achieve this milestone in our guide on making a full-time income freelancing as an email marketer and pave your way to financial success.
10. Use Social Media To Promote Yourself And Build Your Network Of Contacts Even Further
Being an entrepreneur is never easy but we've had a major leg up on the competition thanks to LinkedIn. This network has been extremely helpful in establishing our brand and developing our business's visibility, which promptly turns clients into customers. The thing that's made all of this possible? Hashtags.
Hashtags are a type of keyword or topic label that you can use to make your job search stand out in search engines like Google (and now even Yahoo!). For example, if you're looking for clients who need someone to create content marketing campaigns, you could set up a campaign with a hashtag like #contentmarketingcampaigns and restrict your searches to just those keywords.
 Every time someone searches for #contentmarketingcampaigns on LinkedIn, it will bring up your profile and news about your work as an expert in the industry. Once people see what it is you do, they'll be much more likely to reach out to you which means it's important not only to share our content but also to respond when we receive inquiries about it!
11. Find The Right Websites For Job Postings
Go to websites like Upwork, Freelancer, and Guru and start looking for jobs that fit your skills and abilities. Be sure to include relevant and useful information about the job in your application (e.g., would you be doing email copywriting or writing strategy? Are you comfortable working with clients who have specific subject matter expertise? Can you work at a fast pace, or will you need more time?).
 Make it clear what you are offering and what the client needs to do to hire you. Include all of your necessary contact information as well as how much compensation you're looking for and how long it might take for the job to be completed.
12. Write High-Quality Proposals For Any Job You Want To Apply For
A proposal is a document that you write to get hired. It's a way to show how great you are at a job so that they'll hire you. On one hand, it is just an application form: tell them what your experience and skills are, describe your company, and make sure all of the numbers add up (is the salary listed in the proposal accurate?).
But on the other hand, this isn't something that's going to sit on a desk or be thrown in some trash bin. You're writing it for someone else to read. And that person is making decisions about whether or not they want to go ahead with hiring your decisions about whether or not they see enough value in your work to pay for it.
Your proposal will also be seen by people who don't know anything about you. They'll have no idea why someone would hire you exactly but if they haven't seen any of your other work then maybe they'll take a chance on hiring you because there was nothing else out there that looked like it could satisfy them.
13. Familiarize Yourself With The Most Popular Tools And Techniques Used In Email Marketing
The marketing world is constantly evolving, so you'll want to stay up on the latest trends and technologies. You can do this by reading email marketing blogs, attending conferences, or simply having social media accounts where you follow influencers in the industry who share their knowledge publicly.
Reminder: Email Marketing Is A Great Skill To Have
In today's digital world, email is one of the most effective ways to market a product or service. Companies know this and are always looking for talented individuals who can help them grow their business through email. As more people become self-employed, freelancers have an opportunity to get in on the action.
Email marketing is a very effective way to reach consumers directly. It is easy to learn how to do it well and start your own freelance business with little initial investment. There are many opportunities for freelancers in this industry because companies need help reaching their target audiences via email campaigns. You can work from home or anywhere in the world as long as there's an internet connection available!
Starting your journey as a freelance email marketer can be overwhelming, but the right guidance makes all the difference. Check out our comprehensive list of 12 tips to get started in freelance email marketing and set yourself up for a successful career.
Final Thoughts 
You've learned a lot today too much for one person to take in at once. If you're feeling a little overwhelmed, don't worry. The important thing is that you've thought about how to be a freelance email marketer and start your agency. It's not easy but it can be done and we hope this guide has helped you on your journey.
And who knows? In five years, someone else could be reading this guide and trying to figure out how to follow in your footsteps, so keep that in mind when you're faced with obstacles along the way. Let them see what's possible!
Further Reading
Explore more resources to enhance your understanding of freelance email marketing:
How to Hire a Freelance Email Marketer Without Losing Your MoneyLearn valuable tips on finding and hiring a freelance email marketer without compromising your budget.
How to Become a Freelance Email MarketerDiscover the steps and insights needed to embark on a successful journey as a freelance email marketer.
Getting Started in Email Marketing as a FreelancerGain insights into the process of getting started with email marketing as a freelancer and building a strong foundation for your career.
People Also Ask 
What Is Email Marketing?
Email marketing is the process of sending targeted messages to your subscribers or clients that are relevant to their interests and needs. This can be done through a variety of delivery methods (such as online, mobile, and traditional) to reach an audience of interested parties. 
The entire point of email marketing is to help you deliver targeted messages directly to your customers who want the service or offer that you provide.
Who Is The Best Email Marketer?
This question doesn't have a straightforward answer because there are many different types of clients, and thus, many different types of email marketers. The best email marketer for your client will be one who understands their goals, marketing funnel, and target audience, and who can help them achieve their objectives by creating effective email marketing campaigns.
What Is Email Marketing? 
Email marketing is when brands use targeted emails to create relationships with prospects and customers and increase brand awareness or drive sales. It's an example of direct digital marketing because it involves reaching out directly to potential or current customers in their inboxes by sending them promotional messages that feature personalized offers or content on behalf of the company or brand they represent.
What Is The Best Email Marketing Platform?
There are many great options out there: HubSpot Marketing Hub has features like lead tracking, automation capabilities, and list segmentation tools; MailChimp lets you send customized emails based on recipient behaviors like clicks; 
ActiveCampaign offers its users advanced automation features; Constant Contact helps businesses grow their contact lists; Mad Mimi allows its users to manage multiple accounts from a single dashboard; Zoho Campaigns provides customizable interface templates that fit your brand style. And this list goes on and on!
How do I become an email marketer? 
Reading this guide is already a great start! But more specifically, these steps should help get you going: 
Decide what type of clients you want to work with (and don't forget about niches.
Build up your resume by writing sample emails for hypothetical clients (or real people if they're willing.
Create profiles on free freelancer platforms such as Upwork or Freelancer.com (otherwise known as
How Do You Get Into Email Marketing?
There are a few things you can do to get started with email marketing, including maintaining your email list, building an online presence that looks professional and showcases your skills, and developing real-world experience by taking on small projects for friends or businesses in your area and creating an effective resume. For more information on how to start getting into email marketing, check out the rest of this article.
How Do I Get Started With Email Marketing?
Some people think that just because they have a Facebook page or Twitter account that they can immediately become an expert at social media marketing. However, there is much more to it than just posting some tweets or status updates every day, and the sooner you realize this the better off you'll be when trying to find clients online!
Why Is Email Marketing So Effective?
One of the most common questions I hear from people starting their business is how best to market their product or service. One answer: through emails. Email marketing has been around since before the internet was even invented (as any good marketer will tell you).
It's been used successfully by companies like Amazon and Dell because it works so well that there's no need for expensive advertising campaigns when all you have to do is send someone a message about what you're offering! And if one person gets interested then others will too–it's called viral marketing for reason 🙂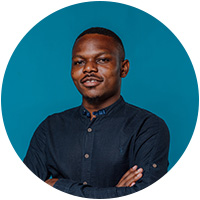 Costantine Edward is a digital marketing expert, freelance writer, and entrepreneur who helps people attain financial freedom. I've been working in marketing since I was 18 years old and have managed to build a successful career doing what I love.