I'm thrilled to share the news that my freelance social media job has led to some amazing prospects!
I've been working with a local jewelry designer to help her build her business and boost her exposure through social media. It's been an awesome experience for me, and I've learned so much about what makes a jewelry business tick.
As I was working with this designer, I noticed a bigger trend in the industry: there's an increasing demand for more originality in jewelry design, which is exactly what this designer excels at. So I helped her develop a plan for expanding into wholesale, and she's now offering custom orders online.
She's also begun building relationships with other designers who are looking for unique supplies for their work. Since she's already made these connections through our work together, she'll have an easier time getting started with this new opportunity.
I'm thrilled that my small side project has led to success in such a big way! And it all started because I had that freelance social media job!
Takeaways
1. Freelance social media jobs can open doors to exciting opportunities.
2. Leveraging social media skills can lead to remarkable career growth.
3. Building a strong freelance portfolio showcases your expertise.
4. Networking through social media can connect you with valuable contacts.
5. Diversifying your skills can lead to even more amazing prospects.
I Started Out Small, With Humble Beginnings
Social media management is the process of building a brand's online presence, increasing followers, and promoting engagement across various social networks. It can be time-intensive and requires a diverse skillset for successful execution. If you're considering becoming a social media manager, here are some things you should know before getting started.
Starting a freelance email marketing agency and scaling it to 7 figures requires a comprehensive strategy. Learn the ins and outs of this journey in the Definitive Guide to Starting a 7-Figure Freelance Email Marketing Agency.
Getting Started As A Social Media Manager
First, make sure that your own social presence is in order — this is helpful not only for making first impressions on potential clients but also to give you better insight into how to help them achieve their social goals. According to Buffer, each platform has its own best practices when it comes to posting frequency, optimal post length, and image size. 
These are the basic technicalities that will help you get the most out of your content efforts — so learn those rules! Once you have all of that down, consider focusing on one or two platforms where your clients have an existing presence or want to build from scratch.
Study up on marketing strategies: Think about what kind of services your ideal client needs in order to reach their target audience and identify what would be most helpful for them (e.g., more followers? higher engagement? increased website traffic?). 
Familiarize yourself with A/B testing (or split testing), which is comparing multiple versions of an ad or post against each other in real-time; A/B testing helps determine which version has the highest conversion rate.
Gather the right tools: Buffer's Social Media Management Tools Guide will help you explore different options when choosing software that's right for managing client accounts and scheduling posts at optimal times according to data such as follower demographics and customer behavior patterns. Analytics tools such as Facebook Insights can show how many people viewed each type of post over specific periods of time, so use these resources wisely!
Track progress: Developing a regular reporting schedule will not only keep you accountable but also enable monitoring progress towards any established goals (e.g., increased
Looking to boost referrals and sales as a freelance email marketer? Discover how freelance email marketing can be the key to unlocking more referrals and sales in our article on Freelance Email Marketing: The Secret to More Referrals and More Sales.
I Started By Taking On A Few Small Clients
In the early days, I started by offering to help friends and family as well as others who were interested in my services. I worked from anywhere and enjoyed the flexibility that came with being my own boss. As a result, I didn't have to worry about clocking in or out and was able to take on clients according to my availability. 
To promote my services, I started a blog that helped me reach a wider audience outside of my network. It also gave me an easy way to show what I could do for businesses that were interested in working with me. 
Additionally, I used social media platforms such as Twitter to engage with other potential clients and advertise what kinds of services I offered. Lastly, it didn't hurt that some of my first customers referred me to their friends and family members who wanted similar assistance with their social media channels!
I Started To Get Referrals For More Clients
One of the best ways to grow your business is through referrals. Social media is a great platform that can help you get new clients and help them refer others to you. Before asking for referrals, however, make sure you have really good relationships with your clients by providing high-quality work, meeting deadlines, and overall going above and beyond what is usually expected from you.
When requesting referrals from existing clients, always ask them publicly on social media if they can recommend your services. Never send them a direct message asking for this as it comes off as pushy and aggressive. If they truly love the service you provided, most likely they will be more than willing to give you a shout-out during their next podcast or contribute a testimonial for your website or blog post!
Here are some other ways to get referred:
Ask friends who do similar work if they can recommend your services
Ask family members who own businesses if they need assistance with their social media accounts
Ask colleagues at networking events or meetups what kind of social media assistance they are looking for
Next, I Got A Job Offer At A Big Company As Their Social Media Manager
I began as a social media assistant and worked from home. This was a great way to fit in my new job around my freelance schedule and also a great way to start my professional career. I got amazing exposure by working under an experienced social media manager, the opportunity to build my network, and earn much more than I was with freelancing. 
The highlight of this job was that it gave me the ability to travel to multiple cities across North America for work, boost my professional profile, and earn enough money to save as much as I wanted to. It led me to other jobs in the digital marketing space.
It is worth noting that freelancing is not for everyone. There are some things to consider before you go out on your own.
You work from home. This is great if you have a really cool home office and are checking off one item on your Pinterest board, or you wrote a book from the comfort of your bed, or you're always answering emails or writing blog posts at 2 AM while in your pajamas. 
However, if you're someone who needs quiet to get stuff done and doesn't need constant human interaction, then this is a no-brainer! Working out of coffee shops can be an option too!
You travel more often than not. Freelancing truly allows me the freedom to travel since I can easily pack up my laptop and work on projects wherever there is an internet connection. This means that I could work in New York City for one month, then California the next month! (If only it were this easy!)
Earning a full-time income as a freelancer is a goal for many. Learn how to achieve this goal by specializing in email marketing with insights from How to Make a Full-Time Income Freelancing as an Email Marketer.
Now I Work From Home Managing Social Media Accounts And Blogging 
To be honest, I'm not sure if it was the training and experience or just the luck of finding a job in my field. What I do know is that it was incredibly fulfilling to be doing what I wanted to do while getting paid for it. What I didn't realize until later is that this job got me more exposure than anything else ever could have.
The work itself wasn't anything special: blog posts, Facebook posts, tweets, updates, and press releases here and there. But every time something new went up on one of those sites with my name attached to it as an author, people would see my work and want me to do the same for them.
I learned that if you put yourself out there enough (and make sure you deliver exceptional results), you will get noticed and you will get clients simply because other people want what you offer or think you can help them achieve their goals. Also, once people see what kind of work you are capable of doing for them because they took a chance on hiring you, they will keep coming back for more (and refer other clients your way).
Curious about the benefits of freelance email marketing and why you should consider it? Explore the insights and experiences shared in our article on Freelance Email Marketing and Why I Think You Should Do It Too.
My Blog Has Grown So Much Too Because Of This
It's been an amazing journey and I am so thankful to all my readers. They have been the biggest contributors to my success, giving me their feedback and encouragement. Through their support, I have been featured in some top publications sites. 
One of the things I've learned in my time as a blogger is how important it is to build a community of readers who will share your content. There's so much out there on the internet to read and watch, that it's fantastic when people take the time to share what they enjoyed reading with their friends and followers.
I do spend a lot of time sharing my posts on social media networks: Twitter, Pinterest, and Facebook. But having others share them too definitely amplifies my reach tenfold! This post was shared over 1000 times using BufferApp!
And also because of all of you reading my blog who share it with your friends, family, and on your own blogs. So thank YOU for sharing my posts!
If you think you might want to start a freelancing career out of anything that you love doing, you should go for it! I personally didn't think that anyone would ever be interested in hiring me or paying me for social media management. And the truth is, there are some people who will never hire you no matter what you do. There are also some people who will never like your content no matter how good it is. 
But there are plenty more people who will give you an opportunity and help you along the way. When I started my journey, I was just doing makeup on myself and posting random pictures on Instagram and Facebook. Small steps eventually led to bigger things such as building a portfolio and network online and offline. Don't be afraid to ask for referrals or even do free trials for new clients in order to build up your resume of work experience.
There are no hard and fast rules when it comes to getting started with freelancing or any job in general but if there's one thing that I've learned along the way is that….You will never know until you try! And if this doesn't work out then at least now you'll have something else to cross off on your bucket list!
Crafting compelling email subject lines is crucial for high open rates. Dive into the art of writing effective subject lines that entice readers to engage with your emails in our guide on How to Write Epic Email Subject Lines that Make People Open Your Emails.
Final Thoughts
In the end, a foot in the door is better than none at all. Freelancers looking to get exposure should take any opportunity they can get. Who knows? An impressive portfolio may be just around the corner.
Also, a big part of increasing the effectiveness of my freelance writing job was responding to blog comments. I used those opportunities to notify readers that I also am a designer, and I offered to customize their blog for free using Photoshop. Because of this tactic, my social media consulting agency almost doubled in size in just three months!
Further Reading
Here are some additional resources you might find useful to explore:
The Ultimate Guide to Becoming a Freelance Social Media Manager: A comprehensive guide that provides insights and tips on starting a career as a freelance social media manager.
20 Reasons to Hire a Freelance Social Media Manager: Discover the numerous benefits of hiring a freelance social media manager for your business.
Insights on Being a Freelance Social Media Manager: Gain valuable insights into the world of freelance social media management, including tips and best practices.
People Also Ask
How Did You Get Your First Freelance Social Media Job?
I got this job by being consistent with my social media presence, building a following, and promoting my brand. I also used hashtags to make sure that I was getting in front of the right people.
What Kinds Of Opportunities Did You Get From Your Freelance Social Media Job?
I got exposure and access to a lot of new people. I also made more money because the more work I could do, the more money I could charge!
How Did You Get Your First Freelance Job?
I started by reaching out to a few companies that I respected and asking them if they needed any additional social media help. I was pleasantly surprised when they said yes!
How Can My Business Benefit From Hiring A Freelance Social Media Manager?
Hiring a freelancer gives you the chance to try new ideas and concepts without committing to someone full-time. It also allows you to have more than one person working on your social media account, which means you can have a variety of voices and personalities in addition to your own.
In addition, it gives you the opportunity to work with someone who has experience in social media and knows what works best for your business or brand.
How Do I Know If Hiring A Freelancer Is The Right Choice For Me?
If you're looking for extra help, or just want to test the waters before making a larger investment, using a freelancer can be an excellent choice! It helps take some of the stress off of your time management and allows you to try out new things without going all-in.
Did The Job Require You To Develop Any Special Skills?
I knew that if I wanted the job, I had to be able to write in a way that would be relatable to the company's customers. So I worked hard on developing my skills in that area and really honing my craft in an effort to stand out from other writers who were applying for the job.
How Long Did It Take You To Find Your First Job As A Freelancer?
It took me about three months of searching before I found my first opportunity, but it didn't pay much, so I continued searching. It took about another six months before I got my next freelance gig, which paid better and was with a more established company.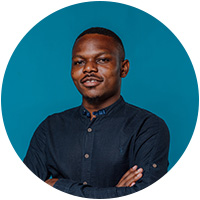 Costantine Edward is a digital marketing expert, freelance writer, and entrepreneur who helps people attain financial freedom. I've been working in marketing since I was 18 years old and have managed to build a successful career doing what I love.