With so many social media platforms to choose from, how do you choose which one is right for your brand? 
The answer depends on a few factors, including where your target audience hangs out online, what type of content they prefer to consume and whether or not you're willing to pay for ads. 
In addition to choosing the right social media platform(s) for your brand, it's also important to consider which types of content will help you reach your marketing goals. Here are some tips that can help you create buzzworthy content on social media:
Takeaways
1. Utilize Visual Storytelling: Incorporate captivating visuals that tell a story and evoke emotions in your audience.
2. Embrace Trending Topics: Stay updated on current trends and incorporate them into your content to attract attention and engagement.
3. Spark Conversations: Craft content that prompts discussions and encourages users to share their thoughts and opinions.
4. Leverage User-Generated Content: Encourage your audience to contribute content, building a sense of community and authenticity.
5. Experiment with Formats: Try different content formats such as videos, infographics, and interactive posts to keep your audience engaged.
Focus On Your Audience, Not Your Brand
When it comes to social media, you need to be thinking about your audience, not your brand. What content will they want? How can you use social media to create a conversation with them? And how can you use social media to create a conversation between them and your brand?
You might think that this is obvious and that every brand should be doing it but the sad truth is that many brands don't understand this concept at all! They are stuck in an endless cycle of posting content that is completely irrelevant to their audience's interests.
Enhancing your content's reach on social media is essential. Discover effective strategies to optimize your posts by visiting our guide on optimizing your Facebook business page.
Content Is King, But Context Is God
Content is king, but context is god. This means that for your content to be shareable, searchable, relevant, and actionable it needs to have a great deal of context around it.
But what exactly is "context?" Context is everything surrounding the words on your website or blog post that helps readers understand why they should care about whatever you're sharing. 
It could be something as simple as a headline or image, but it can also be how you position yourself in the industry or even other things like social proof (i.e., mentioning big names).
Create A Buzzworthy Conversation
One of the best ways to create buzz is by creating a conversation with your audience.
Here are some tips for how to do that:
Ask your audience questions – this will allow them to feel like they're part of a community and help you get to know them better. It also allows you to find out the answers that people care about, so you can use them in future content creation and social media posts.
Let your audience know that you are listening – let them know this both in written communication (on Twitter or Facebook) as well as through spoken word (in YouTube videos or podcasts). 
The more you listen to customers, the better chance you have at figuring out what makes them tick, what they love/hate about certain products and services, etcetera…and then using this information wisely when creating content!
Buzzworthy Content Can Be Longform
Longform content is different from a typical blog post because it provides more detail and more substance. 
It's not just a couple of paragraphs about the latest social media trends, but rather long-form content that takes the time to explain why certain strategies are effective in creating buzzworthy content.
Longform content can be used to tell a story or provide detailed information (for example, if you're writing about how to use BuzzSumo or Buffer). 
You can also use long-form content to explain a concept (for example, what SEO is), give testimonials from past customers, or provide examples for new clients on how their campaigns will look when completed.
Elevate your social media game with the right tools. Explore our list of 15 tools for better content creation and management to streamline your efforts and create buzzworthy posts.
Don't Publish Until It's Perfect
We know, it's hard to keep your creative juices flowing when you have a high standard for perfection. But it's better to wait until you're happy with your content before posting it on social media because you will attract more people and gain more engagement if the content is great.
The best way to create buzzworthy content is by spending time researching and writing something that resonates with people. Don't rush through your posts take the time to make sure that every sentence is perfect! 
When writing for social media, there's no room for errors or typos; even if something seems like an insignificant detail, it could distract readers from reading your message as intended (and drive them away).
Take another look at everything from top-to-bottom before publishing anything; if there are any areas where you can improve upon what you've written or added into images or videos already included in the post, do so before making any final changes and hitting "post".
Find An Influencer To Help
Influencers can be a game-changer in your social media strategy. An influencer is someone who has a large following on social media and/or has some kind of authority or recognition in their field. 
These are the people who have built their audience, so they're much more likely to be able to help you reach yours — and that's what makes them so valuable. 
Whether they're celebrities or just regular people with thousands of followers, the key thing is that they have credibility within your niche (or an audience with whom you share common interests).
Influencers can help you get your content in front of the right people by sharing it themselves or posting about it on their channels. 
They'll also often be willing to feature discussions around particular topics — for example, if one of my favorite fashion bloggers writes about how she stays warm during winter months (I'm always looking into ways I can dress warmer).
Then I know that any posts I make on this subject will probably get seen by her readers — and they're all interested in fashion too!
Influencers also give you another way to build relationships with potential customers by allowing them access to inside jokes or exclusive content only available through them (like tips from experts). 
This creates trust between consumers because we know our friends won't steer us wrong when giving advice; likewise, it builds trust between businesses because consumers perceive them as having insider knowledge over competitors' marketing efforts."
Expanding your social media audience is a key step toward creating buzz. Uncover valuable tips and strategies in our guide on growing your following on Facebook and Twitter, and start building a engaged community.
Make Your Content Interactive And Shareable
Here are six ways to make your content shareable:
Create a call to action. When you have a goal in mind, make sure it's clear and concise. Remember that if you don't provide a way for users to do something when they're done reading or watching your content, then they're not going to do it.
Provide an easy way for them to share with friends and family on social media platforms like Facebook, Instagram, Twitter, and Pinterest. For example: "Share this article on Facebook," or "Pin this image." 
You can also ask people directly by saying things like "Do you want another free guide?" or "Want some more helpful tips? 
Sign up below!" You could even offer exclusive discounts only available through email opt-in forms (e.g., "Get 15% off our new book just by signing up here!"). 
Just make sure whatever you choose is simple enough that anyone can use without feeling intimidated or overwhelmed by too many options and don't forget about mobile users!
Make Your Target Market Feel Special
Use a personal tone. When you're creating content for your brand, it's important to keep an eye on the audience and what they're interested in. 
Don't talk down to them or use language that makes them feel like they can't understand what you're saying because they aren't as smart as you are. 
Instead, write in a friendly voice so that your target market feels like they're engaging with a friend rather than just another company trying to sell them something (and failing).
Use a conversational tone. It's tempting for brands to fall into the trap of being overly formal when writing about themselves but this won't help you stand out online! 
One-sided conversations don't have much appeal at all; people want their social media feeds filled with interesting content from other sources as well as personal messages from friends or family members…
So if everything they see is super business and serious all the time? They'll eventually get bored and stop following it altogether!
Use Contests And Coupons To Drive Action From Your Audience
One of the easiest ways to create buzz-worthy content is to ask your audience questions and offer them something in return. It's a strategy that has been used by many businesses since the dawn of time, but it still works well today because people want what you have.
You can use contests, coupons, and giveaways to drive action from your audience. Here are some examples:
Give away a free product or service: If possible, give away one of your best-selling products or services at no cost to the winner. This will help build brand awareness for you and make customers want more from you in the future. 
You can even offer another incentive along with this contest (such as a discount or coupon code), which will entice even more potential customers into participating!
Offer a discount or coupon code: Discounts work well if they incentivize purchases from new customers who might not otherwise have ended up buying anything anyway but only if they're substantial enough that they affect their bottom line! 
For example, offering $10 off any purchase over $50 could be enough incentive for someone interested in making some big purchases this month without affecting profitability much at all…if done right."
Amplify your music's reach through effective social media tactics. Dive into our insights on promoting your music through social media and learn how to captivate your audience and generate buzz.
Don't Miss Out On Using Trending Topics To Promote Your Brand
Now that you've learned the basics of what it takes to create buzz-worthy content, let's talk about how you can use trending topics to promote your brand.
Social media is constantly changing and evolving, but one thing that won't change is people's desire to share their opinions and feelings with others on social media. 
That's why brands need to understand how these trends work to create content that will resonate with their target audience.
For example: Let's say there is a big news story about online dating apps being hacked or an increase in cyberbullying cases within the last week. 
You could create an infographic or blog post on how this impacts users online, including tips for staying safe when using these services or ways people could report incidents if needed (and then link back directly from this post). 
This would be relevant because it would provide valuable information while also adding value by helping readers avoid negative experiences themselves!
Take Advantage Of Holidays And Events To Promote Your Brand And Products
You can use holidays and events as a way to reinforce your brand. If you have a clothing store, for example, you can promote your products in the weeks leading up to Christmas. 
Similarly, if you're an online retailer of games or toys, you could create content related to Easter or Halloween.
Holiday-themed posts may also attract new audiences who are interested in certain aspects of those holidays (e.g., food preparation). 
If someone sees that you have posted about Thanksgiving dinner recipes on Facebook, for instance, they might check out your social media profiles and website (if they're interested in learning more about cooking). 
This way, holiday promotions become opportunities for raising awareness about your overall business and products whether or not customers decide to buy something from you during this particular moment.
Release A Behind The Scenes Video Or Photos Of How Your Products Are Made
Releasing a behind-the-scenes video or photos of how your products are made can be an effective way to create buzzworthy content on social media.
Show off how your products are made and packaged, then share it with your audience. This will make them feel like they're getting an inside look at what goes into creating the product, which could make them more likely to buy it.
Tease Upcoming Products With Buzzworthy Content That Highlights Their Best Features
Next, you want to tease the upcoming product. You can do this by releasing a video or photo of it and explaining what makes it special. Then make sure that the product is available for purchase so your audience has a way to get their hands on it.
Finally, use the product as inspiration for creating buzzworthy content around what makes your brand awesome. For example: "Do you like puppies? Of course, you do! 
Everyone loves puppies! Check out our new puppy-themed clothing line – everyone needs something cute in their wardrobe!"
Crafting compelling content is crucial for creating buzz. Delve into the realm of marketing strategies inspired by copywriting with our article on learning from copywriting for marketing, and master the art of engaging your audience.
Use Emotion-Driven Or Inspirational Content That Has High Clickability Rates On Social Media Posts
You want to use emotion-driven or inspirational content that has high clickability rates on social media posts. This is because people are more likely to share content that evokes an emotional response from them, like an inspiring story or a video of someone doing something incredible.
There are a few ways you can create emotionally charged content for your brand:
Create a listicle about the benefits of using your product (the best thing about using this product is…).
Post an image with a quote from someone famous saying why they love using your product/brand.
Make a video showing how easy it is for people to use the product and what kind of results they get when they do so.
Tell a Story With Your Content Marketing Strategy by Aligning with Popular Trends in Visual Storytelling
Visual storytelling is a popular trend in content marketing, and it's not hard to see why. Visual content makes your stories easier to remember, share, and engage with than plain text.
Here are some ways you can use visual storytelling to create buzz-worthy content:
Create infographics that showcase statistics or fun facts about your industry or niche market. You could also include quotes from customers or employees it will be more engaging if they are real people than just stock photos of happy customers wearing hats! 
Use these infographics as the basis for blog posts and Facebook ads that promote your latest product or service offerings.
If you have access to an illustrator (or even someone good at creating memes), ask them if they would be willing to design graphics based on customer quotes from interviews you did with them recently.
This will give your business a more personal touch than any other type of advertising has so far this century!
Conclusion
Content marketing should be fun. If you're not enjoying the process, you'll likely not be as successful with your efforts. To sell anything online, you must first build trust and speak to the needs of your audience. 
This can only come through genuine interest in their lives and a willingness to listen intently before speaking up with an answer or solution for them. 
The more you know about the people in your niche market, the better chance you have at success through content marketing and social media buzzworthy campaigns that will help spread your message far and wide.
Further Reading
Here are some additional resources to help you dive deeper into creating buzzworthy content on social media:
Social Media Launches: The 2023 Guide Short Description: Explore the latest trends and strategies for successful social media launches in this comprehensive guide.
5 Tips on Creating Buzz-Worthy Content for Social Media Short Description: Learn five actionable tips for crafting content that generates buzz and engages your social media audience.
5 Tips for Creating Buzzworthy Social Media Content Short Description: Discover expert advice on how to create content that captures attention and sparks conversations on social media.
FAQs
How can I make my social media content more engaging?
Engaging social media content often involves using visually appealing images, crafting compelling headlines, and encouraging user interaction through polls, questions, and calls to action.
What role does storytelling play in creating buzzworthy content?
Storytelling adds a human touch to your content, making it relatable and memorable. Sharing personal anecdotes, case studies, or user testimonials can create a strong emotional connection with your audience.
How can I leverage current trends to create buzzworthy content?
Monitor trending topics and hashtags in your industry or niche. Incorporate these trends creatively into your content, showing your brand's relevance and sparking conversations.
Is video content effective for generating buzz on social media?
Absolutely. Videos are highly shareable and engaging. Create short, impactful videos that convey your message effectively and encourage viewers to share, comment, and react.
How can I measure the success of my buzzworthy content?
Use social media analytics to track metrics such as likes, shares, comments, and click-through rates. Additionally, monitor the reach and engagement of your content to gauge its impact on your audience.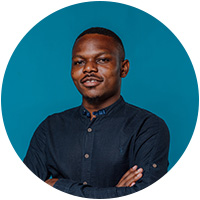 Costantine Edward is a digital marketing expert, freelance writer, and entrepreneur who helps people attain financial freedom. I've been working in marketing since I was 18 years old and have managed to build a successful career doing what I love.