A commission-based graphic design business is a great way to earn money doing the work you love. But not all businesses are created equal, and it's easy to get stuck in a rut if you're not careful. In this article I'll show you how to build a successful, thriving graphic design business by outlining steps that will help take your career as an artist to the next level.
Takeaways
1. Focus on commission-based projects to align your income with the value you provide.
2. Build a strong portfolio showcasing your design skills and previous successful projects.
3. Develop excellent communication and negotiation skills to secure profitable deals.
4. Network with potential clients and other professionals in the industry to expand your reach.
5. Deliver outstanding results consistently to earn repeat business and positive referrals.
6. Price your services strategically, considering both your skills and the market demand.
7. Embrace continuous learning and keep up with design trends to stay competitive.
8. Invest in effective marketing strategies to attract clients and build a solid reputation.
9. Provide exceptional customer service to build lasting relationships with clients.
10. Focus on building a brand that represents your expertise and reliability.
Decide What You Want To Do
To figure out what you want to do, it's helpful to ask yourself a few questions:
What services do you want to provide?
What kind of clients do you want to work with?
What's your target audience?
What's your niche?
Choose an industry or industry focus.
To help answer these questions, we recommend taking the time to think about what your strengths are and where they fit into the marketplace. Do some research and find out how much income graphic designers in similar niches earn each year before setting a goal for yourself (this will help ensure that everything stays within reason). 
Once all of this information is gathered up, it can be used as a guide while working on project proposals and pricing structures, and if all goes well, by year three of running your business full-time!
Deciding to venture into the world of freelance design was a pivotal moment for me. If you're considering taking that step, learn about my journey in becoming a freelance designer and how it influenced my career growth.

Check out our guide on How I Decided to Become a Freelance Designer to gain insights into making the right decision for your creative career.
Assess Your Skills And Abilities
There are a few things you need to know about yourself. These will help you decide which kind of graphic design business is right for you.
What are your skills and abilities?
How well do you work with people?
Are your self-discipline and time management skills strong enough to handle the responsibility of running a business on your own?
How good are your communication skills when it comes to making presentations, writing proposals, and brainstorming ideas with clients?. If not as strong as they could be, consider hiring an assistant who has those skills in spades. This person can also help manage incoming calls while freeing up some of your time during the day.
Do you have any marketing experience or can think creatively when planning new ways for customers find out about what services are available at their disposal through an online presence (like social media)?
If not, I highly recommend getting some training before starting out on this journey. There's nothing worse than having no idea how something works or how much traffic goes through Google every month just because someone told us that keyword research matters more than anything else when building websites – which leads me into next point:
A thriving freelance graphic design business relies on successfully managing client relationships. Discover strategies and insights to ensure your journey towards becoming a successful freelance graphic designer is paved with achievements.

Explore The Ultimate Guide to Freelance Graphic Design Clients Success and unlock the secrets to client satisfaction and professional growth.
Learn As Much As You Can About The Business Side Of Graphic Design
If you're just starting out, then you'll need to know how to price your services, how to find clients and how to manage your business. All of these things require a bit of study so that you can make sure that your efforts are focused in the right direction.
Create A Business Plan For Your Freelance Design Business
It is essential to have a business plan for your freelance design business. A business plan will:
Help you develop a clear vision of what the future of your business will look like and how you hope to grow it
Give you the ability to make informed decisions with regards to expanding or scaling back on certain aspects of your operation if needed
Give you an objective way of measuring success (or failure) over time
Choose A Good Name For Your Graphic Design Business
Choosing a good name for your graphic design business is an important first step. Your name should be memorable, and it should also avoid any infringement on other company's trademarks. If you plan to use your own name in the title of the company, make sure it doesn't sound too generic or like something out of another industry (e.g., "Hank's Graphic Design").
It's also important that you respect common sense rules when choosing a name. For example, if you're creating logos for businesses in New York City with names like 'New York Office Supplies,' don't call yourself something generic like 'Office Supply Store' or 'Graphic Designs.' This sort of thing happens all the time, but it will make it really hard for people to find and remember who you are!
Select The Services That You Intend To Offer
As you consider the services that you intend to offer, it is important to think about what your clients want. You will want to select services that are both necessary and desirable in your area. You don't want to offer anything that no one needs or wants.
When offering design services, it is not enough to be good at designing websites and logos. You will also need skills in other areas such as copywriting and photography in order to attract more clients.
Do not offer every service under the sun if they do not fit with who you are as a graphic designer or what makes sense for your business goals. Focus on delivering exceptional value in those areas where customers perceive true benefit from working with experts like yourself instead of wasting time learning how do things yourself when there are experts out there who can help them achieve their goals faster by doing so themselves!
Embarking on a path to freelance graphic design requires careful planning and dedicated efforts. If you're aspiring to become a freelance graphic designer, here's a comprehensive roadmap that outlines the key steps to kickstart your journey.

Learn about the crucial steps in How to Become a Freelance Graphic Designer in 10 Steps and ensure you're on the right track to establishing your creative business.
Establish A Pricing Structure For Your Services
Establishing your pricing structure is one of the first things you'll need to do when you start a graphic design business. There are many ways to set prices, but it's important that your pricing structure be clear and easy for potential clients to understand so that they know what they can expect from you and what your services will cost.
There are several ways you can set your price:
Hourly rate
Per-project fee
Page rate (for websites)
I recommend choosing one or two of these methods, depending on what works best for where you live and the types of clients who are likely to hire you. For example, if most people who work with graphic designers in your area pay by the hour, then it might make sense for this be one of the ways in which people pay for your services as well. 
Alternatively, if web design is more popular in your area than print design (or vice versa), then perhaps setting a per-page rate would make more sense because clients are less likely to buy large amounts before seeing any work done!
Invest In An Online Portfolio Site
An online portfolio is the first thing potential clients will look at when they are researching your company. It tells them you have experience and were willing to invest money into your business.
If you already have one, great! If not, it's time to start thinking about getting one. There are several different options out there: some free and some paid. You don't need anything fancy right away; just choose a site that allows you to post your work with ease and looks professional for future clients.
It costs about $10-$12 per month for hosting but if you want something more robust like domain names or WordPress plugins then that price could double or triple depending on what package makes sense for your needs (more time consuming vs less).
Common misconceptions can cloud our judgment when it comes to working for design agencies. Dive into this enlightening piece that debunks the myths and provides an accurate perspective on what it's really like to work for a design agency.

Unveil the truth behind agency work in Top 15 Misconceptions About Working for a Design Agency and make informed decisions about your career path.
Create A Portfolio That Showcases Your Work
A portfolio website, or simply "portfolio" is usually a single web page where you can showcase all of the design projects you've worked on. Your portfolio site should be easy for clients to navigate and find what they're looking for quickly and it should look professional!
Build A Network Of Support Professionals
Build a network of support professionals to serve as resources for your business when needed. If you're looking to take your graphic design business to the next level, then it's important that you build a network of support professionals who will serve as resources for your business when needed. 
These types of professionals can help with everything from accounting and bookkeeping to design services, SEO, marketing consulting and more. Here are some examples of the types of people that could be part of your network:
Financial advisor
Attorney (for contract work)
Web designer/developer/hosting company
A virtual assistant (can help with administrative tasks)
Accountant (can do taxes or provide tax planning advice)
Bookkeeper/accountant (to keep track of business expenses)
Set Up A Bookkeeping System For Tracking Income, Expenses, And Taxes
You need to have a system in place for tracking your income, expenses and taxes. There are many ways to do this, but we recommend using invoice software like Freshbooks. This will keep track of all your client invoices and allow you to easily send invoices out with just a few clicks. 
Your bookkeeping system should also allow you to track all the expenses related to running your business (rent, utilities, marketing costs etc). You can use a simple spreadsheet or Google Sheets if you don't have the money for accounting software yet.
Open A Bank Account For Your Freelance Graphic Design Business
As a freelance graphic designer, you need to keep your finances separate from your personal finances. This helps with tax time and makes it easier to claim business expenses on your taxes. If you don't have enough money in your personal bank account to pay for a business expense, it can be hard to justify the purchase as a legitimate business expense.
You'll also want to open up an additional bank account just for your freelance graphic design business. You may not think of this as necessary at first, but having a separate bank account will make it much easier for others (like potential clients) or yourself down the road when negotiating payment terms and deadlines with clients.
Decide Which Software To Use On The Job
When you're building a graphic design business, one of the most important steps is to decide which software you'll use on the job. Having a clear understanding of what programs are available and how they differ will save you time and money in the long run. 
It's also important to know what industry standards are when it comes to certain tools, so you can make sure your work is up-to-par with expectations. Here's an overview of some different types of software commonly used in graphic design:
Adobe Photoshop: A photo editing tool that lets users create and manipulate images for print or web projects
Adobe Illustrator: A vector graphics program that lets users create logos, illustrations, etc. (usually with shapes)
Find Out If You Need To Purchase Additional Insurance Coverage As Part Of Being In Business For Yourself
You may need to purchase additional insurance coverage as part of being in business for yourself. You may need to purchase general liability insurance to protect your business against claims of negligence, and you may also need business insurance to protect your business against claims of copyright infringement.
This is something that you'll want to discuss with an experienced professional, like an accountant or lawyer, who can help you decide what type and how much coverage will be right for your situation.
Connect With Other Freelancers Through Freelance Associations And Online Forums
So that you don't feel like you're on your own when working on projects or facing challenges with clients or other aspects of running a graphic design business. Share ideas, tips and tricks. Compare notes about different business models, and share advice about what works and what doesn't in terms of pricing, marketing techniques and more.
Get support from others who can relate to what you're going through; receive encouragement from others who have been where you are now (or at least have some idea of how difficult it can be).
Navigating the process of hiring a freelance designer can be overwhelming, especially if you're new to it. Gain valuable insights on how to choose the right designer even when you lack experience in the field.

Learn about the essential factors in How to Hire a Freelance Designer When You Have Zero Clue and make confident decisions for your design projects.
Set Up Systems To Manage Customer Inquiries And Followups
When you first start out in your business, you will get a lot of inquiries from potential clients.
What do you need to do?; You must set up systems to manage these inquiries and followups. You should use a project management system that allows for emails, tasks, files and calendar entries. Here are some examples: Trello (free online), Asana ($9/month), Basecamp ($99/month) or Teamwork ($19/month).
And in addition to managing client inquiries and followups with the help of a project management system, there are other things that can help such as:
A design brief template where you request information from clients before they send you their job file so that there is no confusion later on.
A contract or agreement is signed by both parties at the beginning of each new project. This will prevent unhappy customers who don't get what they paid for after seeing their website live online!
Send Proposals And Contracts To Potential Clients.
There are two ways to go about sending a proposal or contract:
The first is to send it with the initial email, which indicates that you're serious about working on their project.
The second is to wait until they respond and ask for your quote. In this case, make sure you give them the option of having a quick phone call or meeting so that you can go over everything in person and make sure there's no miscommunication between the two of you.
If someone is interested in working with your company then they will usually ask for more information like what type of work do we do? What kind of projects have we worked on? Have any testimonials from clients? How much does it cost? Etc. It's always best if possible try avoid sending attachments unless absolutely necessary because emails could get blocked by spam filters (or worse).
Final Thoughts
This article has been a comprehensive guide to building a profitable commission-based graphic design business. It's packed with information, and it can be overwhelming at times. If you're feeling lost, don't worry you're not alone!
We designed this guide for all of those people who want to start their own graphic design business but have no idea where to begin or how much work goes into it. We've been there before and know how frustrating it can be when everything feels like too much and nothing seems achievable in the short term. That's why we wrote this article: so that you have one less thing on your mind as you get started building your new career path!
Further Reading
Here are some additional resources to explore for more insights into building a successful graphic design business:
How to Earn Money from Graphic Designing in an Unusual Way: Discover innovative approaches to earning income through graphic design projects that stand out from the crowd.
Start a Graphic Design Business: Learn the step-by-step process of launching your own graphic design business, from planning to attracting clients and growing your brand.
How to Make Money as a Graphic Designer: Explore various avenues for generating income as a graphic designer, including freelance work, online platforms, and other creative opportunities.
People Also Ask
How Do I Find Clients For My Graphic Design Business?
There are many ways that you can find clients. The best way is through referrals, but if that's not possible then there are plenty of other options available:
Do I Need A Degree To Be A Graphic Designer?
No, but you'll want to be sure that your skills are up to par. The good news is that there are many online courses and certifications available for those who want to learn the basics of graphic design.
How Much Should I Charge As A Freelance Graphic Designer?
This depends on your experience and skillset. The average rate is somewhere between $20-$30 per hour, though this will vary depending on where you live and what services you offer. If nothing else, remember: don't underprice yourself! It's better to charge more than necessary than it is to undervalue your work by charging too little.
How Do I Market My Freelance Graphic Design Business?
There are numerous ways in which one could market their freelance design business; however, each person has their own personal strategy which will differ from theirs (and probably yours). One thing we can say with confidence is that it's important not only to get out there but also get noticed! 
In order for people know about what it is that we do as designers (and then hopefully hire us), marketing ourselves online through social media platforms like Facebook/Instagram/LinkedIn etc., blogging about relevant topics such as trends within our industry etc., attending networking events such as conferences or meetups – these things all go hand-in-hand when trying t
How Do I Find Clients For My Freelance Business?
Many people start by asking friends and family if they know anyone who needs design work done. Word of mouth is an excellent way to build up a client base! In addition to this, there are many ways to advertise yourself as a designer on the internet. 
One option is joining local groups on Facebook where people discuss their favorite types of projects (e.g., "I need a logo designed.") You could also try advertising yourself as an expert at certain types of design work through sites like Behance or Dribbble if you think those platforms might be helpful in attracting new customers.
Don't forget about using social media platforms such as Twitter or Linkedin too they're great places where professionals can share ideas with one another!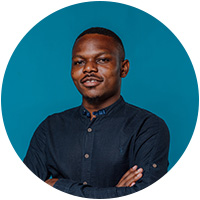 Costantine Edward is a digital marketing expert, freelance writer, and entrepreneur who helps people attain financial freedom. I've been working in marketing since I was 18 years old and have managed to build a successful career doing what I love.