Most people who have a website or are looking to start one will inevitably want to boost their SEO so that their site shows up in search results. 
Luckily, there are tons of free tools at your disposal you just need to know where to look. In this article, we'll discuss some of the most common SEO services and what they entail.
Key Takeaways
1. Discover a comprehensive list of 21 effective SEO services.
2. Gain insights into how SEO can contribute to business growth.
3. Learn about various strategies to optimize your online presence.
4. Explore services that can enhance your website's search engine visibility.
5. Understand the role of content, backlinks, and technical aspects in SEO.
6. Find recommendations for driving organic traffic and reaching your audience.
7. Get tips on choosing the right SEO services for your business goals.
8. Explore opportunities to outsource and streamline your SEO efforts.
9. Consider the impact of local SEO and mobile optimization on growth.
10. Learn about tracking and measuring success with SEO campaigns.
1. Google Search Console
Google Search Console is a free tool that helps you monitor your site's visibility in Google Search results, track your site's performance, and diagnose issues. You can use Google Search Console to:
See how your site appears in Google search results
View data about your pages' crawl errors, index status and more
Get suggestions for how to improve the structure of your pages to help them rank better
Google Search Console (a.k.a., GSC) is one of the most important tools any SEO can use because it gives you access to a lot of useful data about how well your website is doing on search engines. 
It's also a great resource for making sure everything still works after any changes have been made to the layout or code base (which happens all too often).
If you're an entrepreneur aiming to improve your online presence, you'll find valuable insights in our article on 18 Essential SEO Tips for Entrepreneurs. These tips can help you enhance your website's visibility and reach your target audience effectively.
2. Moz
Moz is a great tool for keyword research. It provides tons of data about a website, including the number of links pointing to it, the quality of its backlinks, and the social reach of its content. 
Moz also offers tools that can help you analyze your competitors' efforts and identify opportunities where they may be slipping up like not having enough social shares or keywords in their posts.
In addition to its keyword analysis tools and link analysis tools, Moz offers an SEO audit tool that gives users detailed information about how well their websites are optimized for search engines.
3. AHrefs
AHrefs is a tool that helps you find the best keywords for your website, which can help you get more traffic from search engines. You can also use it to see which keywords are bringing in the most traffic so that you can focus on those keywords in your SEO strategy.
AHrefs is one of the most popular tools on this list, but it isn't perfect: many features aren't available here (such as keyword analysis and competitor research). 
However, if all you need is a simple keyword research tool that gives you alternatives for each term, then AHrefs might be right for you!
Bing Webmaster Tools
Bing Webmaster Tools is a free tool that provides you with a variety of SEO and traffic analysis features. It's part of Bing's efforts to establish itself as an alternative search engine, and its popularity has been on the rise since it launched in 2009. 
The tool offers several ways for you to monitor your site's performance in Bing organic searches, including:
Search visibility reports – Helps you understand which keywords are driving traffic to your website (and how well they perform)
Site health status – Gives details on error rates, crawl errors, and overall site performance
Crafting effective content requires a blend of writing skills and SEO techniques. Our guide on SEO Copywriting offers top 15 tips to help you create compelling content that not only engages your readers but also ranks well on search engines.
4. Screaming Frog
Screaming Frog is a powerful, free SEO tool that you can use to crawl your site and discover the issues that are slowing down your pages. It's a desktop application, so you'll have to download it before you can get started with any of its features.
You can use Screaming Frog as an audit tool by running it against your website or other sites as part of a larger search marketing audit. 
The crawler will provide you with detailed crawl reports, including information about broken links on each page and other potential problems that could be affecting the site's performance (e.g., slow load times). 
You'll also get insights into how well the content is linked across all parts of the site and even if any broken links are pointing back to this particular URL from another page or resource online.
Screaming Frog also lets users perform analysis on both internal and external links on their websites, which allows them to see what type(s) have been used most often throughout different pages (internal vs external), and where they might need improvement or reworking within existing content pieces themselves (if applicable), etcetera."
5. SEMRush
SEMRush is a powerful and feature-rich competitive research tool that allows users to track their keyword rankings, organic traffic, paid traffic, and social media stats. 
You can also see which keywords your competitors are using to get an idea of what keywords you should be targeting.
To use SEMRush to its full potential, it's best to sign up for an account with them first (you don't have to pay anything). By signing up for an account with SEMRush you gain access to the following features:
Keyword Analysis
This tool will help you find all the longtail keywords that your competitors are ranking in Google search results and map out their performance over time so you can see how well they've been doing over time.
Organic Research
This tool helps you find some of the best performing landing pages on each domain so that you know what works best when it comes time for creating new ones yourself or improving on existing ones at work (or even just checking out other companies before deciding which one might want something similar).
Paid Ads Analysis
This tool lets users check out how many ads each company has run on different platforms such as Facebook Ads Manager or AdWords Express etcetera!
Building a successful online presence for smaller websites takes strategy and time. Discover an insightful approach in our post about The 18-Month SEO Strategy. This manual offers guidance on growing your site's visibility step by step.
6. Raven Tools
Raven Tools is a suite of SEO tools that includes a link indexer, backlink checker, on-page analyzer, and more.
It's great for marketers who want to streamline their workflow and are looking for an all-in-one solution. For example, Raven gives you access to the same backlink data as Ahrefs but with a user interface that's easier to use and less expensive than Moz Pro. Plus it just looks nicer!
Another great thing about Raven Tools is its affordability: You get all this functionality for less than $100 per month (and even cheaper if you subscribe annually). 
If you need all the bells and whistles they offer but can't afford them yet then we recommend trying out their free plan first before upgrading to premium.
But if your budget allows then definitely go ahead with one of our other recommendations instead because those companies will give better value in terms of features/functionality per dollar spent on licensing fees."
7. WordStream
WordStream is a PPC advertising platform that helps businesses manage their PPC campaigns. It's cloud-based, so you can use it from anywhere and on any device. 
The company offers a wide range of services, including keyword research, ad copy creation, landing page optimization, and more.
WordStream is especially useful for companies that want to optimize their budgets and automate various parts of their advertising process. 
The platform also provides access to high-quality data on topics like search engine trends so that you can stay ahead of the curve when it comes time for updating your strategy.
8. Majestic SEO
Majestic SEO is a tool that helps you to find backlinks and analyze their value. It provides information such as the number of links, Page Authority (PA) and Domain Authority (DA) score, Pagerank, number of referring domains, and much more. 
You can also segment the list based on different parameters like country, language, etc.
It offers monthly plans starting from $9/month to $99/month depending on your needs.
Are you in the tourism industry? Learn how to establish your authority online with our guide on Building an Expert Authority Website in 3 Months. With the right SEO techniques, you can attract travelers and boost your online presence.
9. SpyFu
SpyFu is a competitive intelligence tool that allows you to find out what keywords your competitors are ranking for in Google, Bing, and Yahoo. It not only tracks the organic results but also the sponsored ads that appear above the organic listings.
SpyFu also allows you to see the keywords that your competitors are bidding on in Google Adwords. This is an excellent way to get ideas of which keywords will work well for your website as well as how much money they might be spending on their ad campaigns.
10. KWFinder
KWFinder is a keyword research tool that provides you with information about your chosen keywords. You can use KWFinder to find low competition keywords, high competition keywords, and everything in between.
KWFinder also has a free trial which allows you to explore the tool before making any payment. If you want to do more keyword research then this may be the right service for you!
11. SerpStat
SerpStat is a powerful SEO tool that helps you to optimize your website. Serpstat helps you to track your rankings, keywords, and backlinks. It also helps to find new keywords and keyword suggestions from Google Suggest. 
You can get the best long-tail keywords through SerpStat which can help you for ranking on search engines like Google and Bing etc.
12. WooRank
WooRank is an SEO tool that helps you optimize your website for search engines, social media, and content marketing. 
The tool allows you to audit a site's SEO performance and also allows you to diagnose any issues with your site's design or content that could be negatively affecting its SEO (i.e., whether it looks spammy).
13. SEOprofiler
SEOprofiler is a comprehensive SEO tool that can help you identify SEO issues, monitor your rankings, and optimize your website.
SEOprofiler is a premium tool with a reasonable price. For example, you can get the Standard version for just $49 per month or save more money by signing up for a longer subscription period.
SEOprofiler is also easy to use: once you sign up for an account on their website and enter your URL, it will generate detailed reports about how well your site performs on search engines such as Google or Bing. 
You can also use the tool to find out what keywords are driving traffic to the pages of your site so that you can target those keywords more effectively in future content creation efforts.
14. BuzzSumo
BuzzSumo is a content analysis tool that can help you find the most shared, liked, and pinned content on any topic. You can also use it to discover influencers in your niche by seeing who's sharing what.
When using BuzzSumo, think about how you want to present the information you find. Do you want to see top posts from last month or from all time? 
Are there any specific authors whose work you want to check out? Maybe there's an article that was shared more than others and should be changed up for your site!
15. Google Analytics
Google Analytics is a free web analytics service offered by Google that tracks and reports website traffic, giving you valuable information about your site's visitors and how they interact with it. 
It has been said that more than 25% of all the websites on the Internet use Google Analytics, so there's a good chance that if you have a website, you can benefit from using this tool.
Google Analytics allows users to understand their site's traffic through various reports such as real-time statistics (including page views, bounce rate), top referring locations, the technology used by visitors, etc. 
This data helps them make informed decisions regarding content creation or updating their sites.
Promoting your campaign using SEO can bring in new customers and expand your reach. Discover effective strategies in our article on Promoting a Campaign Using SEO to harness the power of search engines and drive meaningful results for your business.
16. Long Tail Pro
Long Tail Pro is a keyword research tool that helps you find low competition keywords with high search volume. 
It is easy to use and has a free trial. Long Tail Pro is one of the best SEO tools available in my opinion because it allows you to find long-tail keywords, which are usually easier to rank for than short-tail or head terms.
Long Tail Pro works by scanning Google AdWords, Amazon, and eBay to see what people are typing into their search engines when they want something specific or similar to what you offer your customers. 
For example, if I run a small business selling leather wallets, I could enter "leather wallet" into Long Tail Pro and it will give me all sorts of related words such as "leather wallets reviews" and "how much are leather wallets" etc.
17. Majestic SEO
Majestic SEO is a powerful backlink analysis tool that helps you find out the quality and quantity of your links. It's one of the most popular tools used by SEO professionals and it's completely free to use.
Majestic SEO gives you an overview of all your link-building efforts over time, so you can see which links are working best for you. 
You can also use this information to find new places where people will link to your site without having to do any outreach yourself and improve your rankings!
18. Ahrefs Backlink Checker Tools
A backlink is a link from another website. You can also call it an inbound link, which are the links that point to your website. A backlink profile is the collection of all the sites that link to you and vice versa.
There are two main tools on Ahrefs: Backlinks Explorer and Backlink Audit. The latter lets you see which pages on your site are getting the most traffic from the outside world, while the former helps you discover where these visitors came from (and how they found their way).
But what do these two tools have in common? 
Their names! That's right: both services were originally built for SEO purposes alone before being expanded into separate products with unique features tailored for different needs (i.e., discovering broken links vs analyzing content performance).
19. The Hoth
The Hoth is a free SEO tool that allows you to see how your site ranks in Google, Bing, and Yahoo. It's a great tool for checking your site's SEO or seeing how well it performs against competitors.
The Hoth is easy to use and gives you everything you need in an instant. You can check the ranking of any keyword or phrase, as well as view related keywords and phrases that might help increase traffic to your website.
20. Screaming Frog's SEO Spider Tool
The SEO Spider Tool is an automated tool that crawls your website and finds all the pages on your site. This means it can find pages that you may not have even realized were on your website, such as those hidden deep in a blog post or page somewhere. 
The tool also checks for duplicate content so that you can get rid of any deadweight content. This helps ensure that Google knows what you want to be seen as the most important parts of your site. 
It's also a great way to find broken links on your site, which will help keep people from getting frustrated by 404 errors when trying to visit a page they expect to be there but isn't!
21. SEOMoz's Open Site Explorer
SEOMoz's Open Site Explorer is a powerful tool for analyzing a website's link profile. It allows you to see the number of links pointing to a specific page, the anchor text of the links, and the number of domains linking to that page.
This tool also gives you an insight into how much weight each domain has on your site. 
This is useful because it helps you identify high-authority sites that are linking back to your site so that you can increase their value by either reaching out and asking them for a link or building something on their site that they might want to share with their audience (like an infographic or resource).
Conclusion
We hope that this list of SEO services was helpful to you. They're a great way to expand your knowledge and improve your business, whether you're just starting or have been at it for years. 
SEO is constantly changing, so it's important to stay up-to-date on what works and what doesn't. These tools are a great resource for doing just that!
Further Reading
Hostinger's Guide to the Best SEO Agencies Short Description: Discover top-notch SEO agencies that can help your business thrive online. Hostinger's guide provides insights into selecting the right agency for your SEO needs.
Rock Content's List of Local SEO Tools Short Description: Enhance your local SEO efforts with a curated list of effective tools. Rock Content's blog post showcases essential resources for optimizing your business's local online presence.
G2's SEO Services Category Short Description: Explore a comprehensive collection of SEO services reviewed and rated by users. G2's category offers insights into various SEO service providers and their offerings.
FAQs
What are the key benefits of hiring an SEO agency?
Hiring an SEO agency can provide specialized expertise and resources to optimize your website's search engine visibility, leading to increased organic traffic and potential business growth.
How do local SEO tools differ from general SEO tools?
Local SEO tools are specifically designed to improve a business's online visibility within its local geographic area. They focus on optimizing for local search results and directories.
What factors should I consider when choosing an SEO agency?
When selecting an SEO agency, factors such as their track record, client reviews, range of services, pricing, and alignment with your business goals should be considered to make an informed decision.
What types of services do SEO agencies typically offer?
SEO agencies often offer a range of services including on-page and off-page optimization, keyword research, content creation, link building, technical SEO audits, and performance tracking.
How can G2's SEO Services category help me find the right SEO provider?
G2's SEO Services category offers user reviews, ratings, and insights into different SEO service providers, enabling you to compare options and make an informed choice based on real user experiences.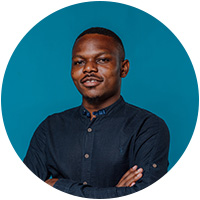 Costantine Edward is a digital marketing expert, freelance writer, and entrepreneur who helps people attain financial freedom. I've been working in marketing since I was 18 years old and have managed to build a successful career doing what I love.