Time-blocking is a strategy for organizing your day that ensures you're able to get more done. It's useful for anyone working remotely, including freelancers and business owners. 
When you time block, you create a schedule that focuses on getting high-priority tasks done first instead of leaving them until the end of the day or week. You are essentially scheduling blocks of time within your daily calendar to work on specific tasks &mdash, but that's not all!
Be Clear About How You Want To Feel
One of the most important steps to time-blocking is having a clear picture in your mind of how you want to feel when you achieve your goal.
It's important to be very specific about what it is that you want, and why. This will help keep your motivation up over time and prevent burnout from setting in too soon.
Block Your Calendar
The first step to time-blocking is to create a calendar. This doesn't need to be anything elaborate, but it should be in a place where you can see it regularly. 
I use Google Calendar, which syncs with my phone and laptop so that I always know what I have going on throughout the day. 
If you are someone who doesn't want or need multiple calendars or reminders set up for every single thing in your life, then keep your agenda simple for example:
10 am – 1 pm : client work
2 pm – 4 pm: client work
Know What You Want To Accomplish And Prioritize It
Before you begin to time-block, it's important to prioritize your tasks based on their importance, urgency, and how long they take.
You can prioritize tasks based on their importance as well as how much benefit they'll bring you. For example, if a client says they want something done right away, that's urgent and should be done before other tasks that don't have the same level of urgency.
You can also prioritize based on how long each task takes if you're short on time and have only an hour available in which to work (or less), focus on completing the most time-consuming parts of your day first so that you have more free time left over at the end of each day.
Create A Process For Your Daily Tasks That Can Be Repeated
To be successful at time-blocking, you need to create a process that can be repeated. You want to make sure that each day is similar because every day is different.
This might sound like it contradicts the idea of time-blocking, but not if we understand what the process is. 
The purpose of your daily tasks should be to complete specific things related to your business and personal life with minimal distraction or interruption. 
If you have a system in place for doing this every day, then when one part goes wrong (like forgetting an important task), the rest of your days won't fall apart as well.
Delegate Whenever Possible
Delegating tasks is undoubtedly one of the most important strategies to help you focus on your most important work. Delegation can seem like an intimidating, time-consuming task but it doesn't have to be.
Delegate whenever possible: As a freelancer, you don't want to be in the business of doing everything yourself, or even anything at all if it's not necessary. 
If a task seems like something someone else could complete more efficiently than yourself, consider delegating that task to free up your time for things that matter more (like writing blog posts!).
Know which tasks are best suited for delegation: There are certain kinds of projects that will require more creativity and brainstorming than others and these tend not to be great candidates for delegation. 
For example, I wouldn't hire someone else to come up with new design ideas or create graphics for my website if I needed those things done right away; instead, I'd simply do them myself and get back to what matters most: promoting my product!
Focus On What You Are Doing, Not How Much Time It Will Take
Time-blocking can be a powerful way to increase your productivity and get more done in less time, but it's not always easy to stay focused on your time-blocked task.
Here are some additional tips for making sure you're staying focused during your time blocks:
Focus on what you're doing right now. Don't worry about how long it will take or what's next on your list. Worrying about these things will only distract you from being productive right now and may cause you to break the flow of energy that comes with getting things done quickly!
Don't worry about yesterday, tomorrow, or next week either! This is one of my biggest challenges when I'm working on something new (and especially hard) because I want so badly for everything else in my life.
My family, friends, etc., who I care about so much – do not feel neglected due to all this focus going towards one thing…it feels selfish somehow but also necessary.
Plan Around Your Energy Level
To plan your day around your energy level, take a look at the task list you created earlier and decide where you will start. 
If you are tired, do something that is less mentally demanding (such as reviewing emails) and save the more mentally challenging tasks for later in the day when your energy level is higher. If you're feeling energized mid-morning, tackle those tricky projects first.
If your energy level is somewhere in between or if it's fluctuating during the day do something that falls into that zone of moderate challenge: checking email, filing paperwork, or scheduling meetings would all fall into this category.
Look At The Big Picture – Schedule Accordingly
Time-blocking is all about being strategic and thoughtful. It's not just a convenient way to schedule your day – it's a way of taking control of your work and making sure you're using time wisely.
The first step is looking at the big picture of what needs to be done to achieve your goals for the day. 
This is where most people get overwhelmed and bogged down by the details, but if you keep this in mind when scheduling, it'll help prevent that from happening later on in the process.
Next comes scheduling accordingly based on what you want out of each block of time: whether that's creative output or socializing (or both!). Make sure everything aligns with this goal so that nothing gets lost in translation during execution!
Systemize Everything That You Can So That You Aren't Reinventing The Wheel Each Time You Work On Something
You can use a calendar, to-do list, or project manager to show you what you have on your plate for the day. 
You can also use software that does all of these things for you, for example, something like Trello or Asana is helpful if you're managing a team and want them to communicate with each other about their tasks.
For freelancers who aren't managing teams but still need an organizational tool that helps them stay on track, there are apps and tools available as well. For example, Wunderlist is a great app for creating and sharing lists; 
Todoist provides similar functionality through the web and mobile apps; Workflowy helps keep track of projects by letting users create outlines; Google Tasks can be used as an easy way to keep track of personal reminders (such as "call mechanic").
Get Clear On Your Deadlines And Who Is Responsible For What
There are two things you need to know as a freelancer: what you are responsible for and what other people are responsible for. You also need to know when stuff needs to be done, and who is responsible for doing it.
It can be hard if you're used to being able to just show up at a job site and ask people questions about their tasks, but as a solo operator, you don't have the luxury of having someone tell you how things work in your absence. It's up to you now!
Optimize Your Workspace For Maximum Productivity And Minimum Distraction
Make sure you have a comfortable chair. It's hard to be productive when you feel like your butt is falling off, so invest in a good seat with plenty of cushioning and proper support.
Get the right desk for your business needs and your body type! A large desk might look impressive, but if you're short and/or have bad posture (like me), it could be causing some serious neck pain after just an hour or two of working at it. 
Consider getting something smaller that doesn't put too much strain on your back or shoulders while still giving you plenty of surface area or even going with something different like standing desks or treadmill desks if that's what works best for you.
Workplace lighting is important because it affects how alert and focused we feel throughout the day. 
If there aren't windows in sight then consider adding task lighting above where people are likely to sit down at night so they don't have to squint at their screens while trying to get things done during darker hours; 
This will also make any digital devices easier on their eyes as well! Conversely, if there are lots of natural daylight sources nearby then this may not matter much since these will provide adequate illumination anyway (depending on how bright those particular windows happen . . .).
Create A List, But Don't Over-Plan (And Don't Over-Schedule) – Keep Room To Breathe!
Don't over-schedule yourself! You don't need to be working 16 hours a day all the time. Remember to take breaks, drink water and eat food that's good for you. Exercise is key when it comes to staying healthy, so don't forget to get your sweat on daily (or at least weekly). 
If you're an introvert like me, it can be easy to get wrapped up in work and forget about taking care of yourself. This will only lead to burnout later on down the line – set aside sometime each day for doing things that are just for fun!
Add Notes To Each Block Of Time In Your Calendar To Keep Yourself Focused
Once you've created your calendar and blocked out your time, it's time to add notes. I make myself a note for each block of time that says something along the lines of "focus on writing," so I know what I'm supposed to be doing during that period. 
You can also add notes like "talk with the client," or anything else that will help keep yourself focused on the task at hand. 
For example, if you know that your morning hours are typically when clients tend to reach out with questions or concerns about their projects.
Then adding a reminder might be necessary for you not to get distracted by answering those questions right away when they arrive and instead wait until afternoon when it's appropriate (and agreed upon) for such discussions.
I also recommend adding notes for any other people who may need access to your calendar; again these are helpful reminders so everyone knows exactly where everyone else is at all times!
Remember To Bill Appropriately
Remember to bill appropriately
As a freelancer, it can be easy to neglect the delicate art of pricing your work. You may find yourself working on a project for hours and hours without thinking about how much you should be charging for it. 
It's important not to let this happen you never want your clients to feel like they got ripped off (or even worse, that they wouldn't have paid more if they knew what they were getting).
It's also important not to overcharge: if you price yourself out of the market, then nobody will hire you! Many factors go into determining the right price point for your services. How experienced are you? 
Do potential clients see themselves as having an equal or higher level of expertise than yours? Is there enough demand in the marketplace for what you offer? How much competition does there already exist within this market segment? 
These are just some questions that come up when considering how much money should be charged per hour based on experience level alone.
Allocate Time For Self-Improvement – No One Gets Better From Not Learning Anything New. Keep Yourself Up-To-Date!
The next step is to ensure that you're keeping up with your learning. As a freelancer, there are plenty of things that you need to learn to be successful. This can include new skills or just keeping up-to-date with the latest developments in your industry.
There are many ways that you can do this:
You can read books and blogs about freelancing to learn about new strategies for success
Join a freelancers group or community where other professionals share their knowledge and experience
Take courses or workshops on topics related to freelance work
Conclusion
The great thing about time blocking is that you can try it out for yourself, and see whether or not it works well with your workflow. By creating a schedule, then giving yourself daily reminders throughout the day to follow it, you can train your brain over time to stay on track. 
This way, when you sit down each day to work on an important task, your mind will be ready to focus. In other words: time blocking can help you stop procrastinating and start achieving your goals!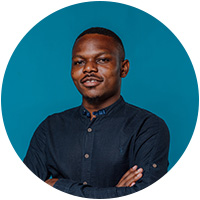 Costantine Edward is a digital marketing expert, freelance writer, and entrepreneur who helps people attain financial freedom. I've been working in marketing since I was 18 years old and have managed to build a successful career doing what I love.