We all want to write like SEO wizards. We want the traffic, the money, and most importantly, that feeling of success when we write content that is not only useful for our readers but also gets us noticed by Google. But how do we achieve this? And what are some simple steps that anyone can take to improve their writing skills? Let's explore these questions together!
Takeaways
1. Mastering SEO writing techniques is essential for content visibility and organic traffic growth.
2. Understand the importance of keyword research and how to integrate relevant keywords naturally into your content.
3. Learn to write SEO-friendly articles that appeal to both search engines and human readers.
4. Implement on-page optimization strategies like using descriptive headings, meta tags, and internal linking.
5. Avoid common SEO writing mistakes and follow best practices to enhance your content's search engine rankings.
6. Create valuable and engaging content that resonates with your target audience and encourages social sharing.
7. Stay updated with the latest SEO trends and algorithm changes to adapt your writing approach accordingly.
8. Harness the power of link building and understand how it can boost your website's authority and visibility.
9. Use analytics and data to measure the performance of your SEO content and make data-driven improvements.
10. Continuously refine and improve your SEO writing skills to stay ahead in the competitive digital landscape.
Make Your Blog Post Title A Benefit-Driven Headline
When it comes to writing a blog post, the key is to keep your readers in mind. Here's why:
People are busy and don't have time to read articles that don't offer them anything of value. So instead of focusing on what you want to say, focus on how you can help them via the content in your article.
The best way to do this? By making sure that every single paragraph serves one purpose: answering a question they might be asking themselves. This will help them understand what you're talking about and give them an opportunity for interaction with your article (i.e., sharing/commenting).
If no questions are being answered by each paragraph then there should be no paragraphs at all! Your goal should be clear sentences that answer their questions clearly and concisely
Building a successful career as a writer requires dedication and passion. Learn valuable tips and insights in our guide on How to Become a Magazine Writer and start your journey towards becoming a published author.
Utilize The Meta Description
The meta description is the snippet of text that shows up in the search results when a user searches for your website. It's not as important as it used to be, but it can still help you boost traffic and conversions.
The best way to optimize your meta descriptions is by writing them as if you were talking to your customer directly. Don't just list all of your keywords (that will get you penalized) or write something generic like "click here to find out more!" Instead, try writing something like:
"If you're looking for amazing products at an affordable price that will make your life easier, then look no further than this site."
Write Catchy Subheadings With H2 And H3 Tags
The subheadings you use, whether they're in H2 tags or not, are critical for SEO. Subheadings are used by search engines to determine what content is the most important and should be prioritized in search results. 
They provide an outline for your article: each section gives readers a chance to pause and gather their thoughts before moving on to the next part of your blog post or website copy.
The best way to write good subheadings is simple: make them short but descriptive enough so that people can scan them easily as they scroll through a page of content on their browser window. Try to keep each paragraph below 150 words you don't want people having trouble reading through paragraphs that are too long!
Use Alt Attributes (Also Known As Alt Text)
When it comes to optimizing your website, you need to make sure you're doing everything in your power to provide a great user experience. 
One way to do this is by describing images with alt text. Alt text (also known as alternative text) is the text that appears when an image does not load on a website. It's usually displayed as an empty box or rectangle with a 'not loaded' message inside of it.
Alt text provides search engines and screen readers for the visually impaired with information about what each image is supposed to represent.
So that these devices can properly display your site even if there are problems loading images at first glance or users have turned off their internet connection entirely because they want some privacy from others nearby who might be listening in on what they're doing at home while surfing through social media sites like Facebook."
Are you interested in exploring SEO writing as a side hustle? Check out our comprehensive guide to becoming an SEO writer on the side and discover how to leverage your writing skills for profitable opportunities.
Use Your Target Keywords In Your Images
Now you have a better understanding of how to write for SEO, and you're ready to start writing. But before you get started on your masterpiece, there are some more things you should know.
Use your target keywords in your images.
Images are the most important part of any piece of content they can increase conversion rates by 80%, but only if they're done well.
First, make sure that each image file name has its unique keyword (for example: "green coffee-bean extracts" instead of just "green coffee bean"). It's not enough to use this as part of the filename; 
It also needs to be included as part of the alt text (the alternative text that appears if someone can't see the image). This is where people who need visual cues will find them! If a page visitor is blind or visually impaired and uses a screen reader like VoiceOver or JAWS, then this text will play when they hover their cursor over an object on the screen:
Add Internal Links To Other Relevant Pages On Your Website
Internal links are the links to other pages on your website. They should be relevant to the topic of each page or article. Adding internal links can help with search engine optimization (SEO), user experience, and overall engagement with your content.
When you create new content, consider including internal links in your text that point back to previous pieces of content that relate to it. This helps readers find related information even if they haven't read earlier posts yet. It also gives you more opportunities to explain a concept or point out something interesting that you covered previously on another page!
Writing SEO-friendly articles is crucial for online visibility. Discover essential strategies in our article on how to write an SEO-friendly article in under 48 hours to boost your content's search engine rankings.
Add An External Link To Another Domain On The Web
Get your reader to another page on the web. In many cases, this means linking to a related article or blog post that you've written on the same topic. 
It can also mean linking to an article or blog post from another website that's related to what you're writing about. You can link directly to other websites in certain cases but it's best practice not to link directly when possible because it helps your readers find more content about their favorite topics easily.
If your readers are interested in learning about SEO for beginners, for example, maybe you explain some of the basics of SEO and then send them off with a list of resources from which they can learn more:
Learn more about SEO by checking out our beginner's guide! This blog post contains everything you need to know about mastering Google Search Engine Optimization (SEO).
Add A Table Of Contents For Easy Navigation
The table of contents is a list of all the sections in your article. It can be generated automatically by tools like Yoast SEO, or manually created by you. It helps readers quickly find the information they are looking for, and makes it easy to navigate an article even if they don't want to read the whole thing.
A common practice is to include the table of contents on every page within an article, but this doesn't work well for long articles that have multiple pages! Instead, use anchors (or links) with readable text so that potential visitors can see what each section offers before clicking through:
Spice Up Your Content With Videos, Infographics, Charts, Etc
Adding video to your content is a great way to add an extra visual element. This can help with complicated processes that are hard to explain by just writing about them. It's also a great way to make your content more fun and engaging. 
Videos are also a great way of providing a visual representation of what you're trying to get across in the text itself, which makes it easier for readers who don't understand how things work or how they work together (for example: if you were explaining how different parts of the human body interact with one another). 
Finally, videos break up text in an interesting way and give readers something else to focus on which means they're less likely to lose interest or stop reading altogether!
Keep Paragraphs Short For Better Readability
Short paragraphs are easier to read. This is because they make it easier to scan the text, which means that the reader can absorb more information in a shorter amount of time.
Moreover, short paragraphs also make it easier for the reader to understand and remember what was said. The reason for this is that each sentence has its point or idea and short sentences are easy for us as humans to process quickly and easily.
To become a natural and engaging content writer, you need to hone your skills continuously. Explore our guide on how to become a more natural content writer and uncover techniques to connect with your audience effortlessly.
Break Up Text With Bullet Points And Numbered Lists
You can also use lists and numbers to break up text and make it easier to read.
Using bullet points to break up the text will help users scan web pages more easily. In addition, you should use a numbered list when you want users to take an action (e.g., buy a product). 
This is especially helpful if your site sells complicated products such as cars or electronics because it makes it easy for users who are less familiar with complex purchases.
Use Short Sentences For The Best Readability
You should write shorter sentences for the best readability.
Short sentences are easier to read and understand than long sentences because they're better suited for mobile devices. When you're writing on a small screen, it's more convenient to tap through a series of short sentences than one long paragraph. 
Also, people read less when they're on a mobile device so it makes sense that you don't want to make them work too hard!
Short sentences also help with digestion: your reader can get through your post faster than if every sentence is long and complex, which makes it easier for them to remember what they've just read because there's less information presented at once (and all those extra commas won't hurt either). 
And finally, short sentences are much easier to write you don't have as many words weighing down on your brain while crafting each sentence; instead, there will be far fewer grammatical rules weighing down on yours!
SEO writing involves avoiding certain counterproductive practices. Learn about the pitfalls to avoid in our article on 15 ridiculous SEO writing rules you should never follow to enhance the effectiveness of your content marketing efforts.
Conclusion
I hope that you've found this guide to writing like an SEO wizard useful. Remember, it's not about being overly technical or complicated it's about making sure your content is relevant and useful for readers. And as always, if you have any questions or concerns about writing for SEO purposes, feel free to reach out anytime!
Further Reading
The Complete Guide to SEO Copywriting: Learn all the essential techniques and strategies to optimize your content for search engines and human readers alike.
Wix SEO Guide: Discover how to improve your Wix website's search engine rankings with this comprehensive SEO guide.
SEO Content Writing: What You Need to Know: Get insights into the world of SEO content writing and understand how to create compelling content that drives organic traffic.
FAQs
How can I improve my SEO copywriting skills?
To enhance your SEO copywriting skills, focus on keyword research, use relevant headings, write engaging meta descriptions, and ensure your content provides value to readers.
Is Wix a good platform for SEO?
Yes, Wix can be a suitable platform for SEO if you optimize your website's content, use relevant keywords, and follow best practices for on-page SEO.
What are the key elements of SEO content writing?
SEO content writing involves incorporating targeted keywords, creating valuable and informative content, and optimizing meta tags to improve search engine visibility.
How does SEO copywriting differ from traditional copywriting?
SEO copywriting includes the strategic use of keywords to enhance search engine rankings, while traditional copywriting focuses on persuasive messaging and brand promotion.
What role does user experience play in SEO content writing?
User experience is vital in SEO content writing as it affects engagement and bounce rates, which, in turn, can influence search engine rankings. Providing valuable, user-friendly content is crucial.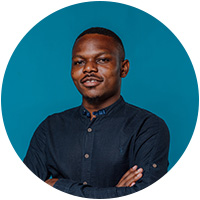 Costantine Edward is a digital marketing expert, freelance writer, and entrepreneur who helps people attain financial freedom. I've been working in marketing since I was 18 years old and have managed to build a successful career doing what I love.