Instagram is the second-largest social network in the world, and it's growing faster than ever. Even though it started as a simple photo-sharing tool, Instagram has become much more than that. 
It's become a place where people go to connect with their favorite brands and influencers, and for businesses to reach new customers and grow their audience.
In this blog post, I'll share 15 tips for marketers using Instagram: what makes a successful campaign on this platform; how to create effective posts; how to use Stories; why you should be taking advantage of ads; plus much more!
Takeaways
1. Craft visually captivating posts.
2. Use relevant hashtags to boost visibility.
3. Engage with your audience through Stories.
4. Collaborate with influencers for wider reach.
5. Leverage user-generated content for authenticity.
6. Share behind-the-scenes glimpses to humanize the brand.
7. Run contests and giveaways to encourage participation.
8. Optimize your Instagram profile for brand identity.
9. Post consistently to maintain audience interest.
10. Use analytics to refine your strategy over time.
11. Embrace Instagram Stories' interactive features.
12. Showcase customer testimonials and success stories.
13. Experiment with different content formats.
14. Encourage engagement through compelling captions.
15. Stay up-to-date with Instagram's latest features.
1. Find The Right Hashtags
Hashtags are useful because they help you connect with a community of people who share similar interests, and they can also help you reach new audiences that you might not otherwise be able to reach. 
But if you use the wrong hashtags, it could hurt your brand instead of helping it.
Here are some tips for finding the right hashtags:
Use keyword research tools to find relevant keywords associated with your business or industry. Then include these keywords in your post's caption so that people searching for those terms will see it when they search on Instagram!
Use a tool like Hashtagify to analyze what other users have been using around specific topics (like "#fashionbloggers") so that you know which ones are most popular at any given time (and therefore more likely to get noticed).
Mastering the art of Instagram marketing involves understanding the nuances of this visual platform. From crafting compelling visuals to engaging captions, learn how to navigate the intricacies of Instagram marketing by exploring the details in our comprehensive guide on the Ins and Outs of Instagram Marketing.
2. Go For An Aesthetic, Not A Feed
The tone of your feed should be cohesive, so don't spam it with too many different styles. Instead, find one aesthetic and stick to it. Take a look at the Instagram accounts that you think are doing a good job what do they have in common? 
Are they using the same filters over and over again? Are their captions similar? Do they use a logo or text that pops up in every single post? If you can answer "yes" to all of these questions, then maybe you should consider following this brand's lead!
3. Connect With The Community
Connect with people by using hashtags: Hashtags are a great way to connect with other users, discover new accounts and content, and get your post seen by other audiences outside of your existing followers.
Use the comment section to connect with other users: Comments on Instagram posts are an excellent way for you to interact directly with those who follow you, so make sure that you're responding to comments from time to time as well as posting your own.
Encourage engagement by hosting competitions in stories: 
Another great way for marketers on Instagram is to host competitions for free products or services in their stories! Not only does this encourage conversation among followers but also makes it easy for them to win something cool!
Embarking on your Instagram marketing journey? Kickstart your strategy with creativity and innovation. Our article on 15 Ideas to Get Started with Instagram Marketing provides a variety of exciting concepts to help you make a strong entrance into the world of Instagram promotion.
4. Use Instagram Stories To Share Behind-The-Scenes Moments
Instagram Stories are a great way to share your personality and culture.
If you're looking for a way to show off behind-the-scenes moments and connect with your customers, Instagram Stories can be an effective tool for doing so. 
They allow brands to share their culture in real-time and make it easy for consumers to get a glimpse into what goes on behind closed doors at their company.
5. Show Your Brand's Personality
You can show your brand's personality in a few different ways, but the most important thing to remember is that you have one. It may be obvious, but it's worth stating: that you should have an established voice on Instagram (and across all platforms) before you start posting regularly! 
That way, when someone sees a post from your account they'll immediately recognize that they're seeing something from you and respond accordingly.
For example, if your brand has a distinct style of content images with lots of contrast, dark colors, and bold typography you want to make sure that every piece of content matches this aesthetic.
So people will feel comfortable following along with what else comes out down the road. 
This consistency also helps build trust between followers and brands because they know what kind of experience they're going to get if they keep up with your feed instead of switching over randomly at any time just hoping for something worthwhile.
6. Think Outside Of Instagram
Use Instagram to drive traffic to your website, blog, social media pages, email list, and print media.
For example: If you're a clothing brand and are looking for new followers on Instagram, create an ad that drives people to an article about something related to your brand (maybe it's an interview with one of the designers or something else that would be interesting). 
The link should lead people off of Instagram and onto your website where they can read more about the piece you've published.
7. Keep It Consistent And On-Brand
When it comes to Instagram, consistency is key. Whether you use a professional photographer or not, make sure your photos and videos are consistent with the brand you've created for yourself. 
This means that the colors and style should be the same as what's on your website and other social media accounts. While it's okay to change things up now and then (after all, variety is good), certain things shouldn't change much or at all:
Your logo
Your fonts/typography
Your color palette
Becoming a true master of Instagram marketing takes dedication and strategic insight. Dive deep into effective techniques and strategies by following our comprehensive Guide to Being an Instagram Marketing Master, and unlock the potential to elevate your brand's presence on this visually captivating platform.
8. Learn From Your Mistakes (And Competitors)
As you start using Instagram for marketing, you will make mistakes. And most of these mistakes can be traced back to one thing: a lack of insight into how your audience is engaging with your content.
If you are not analyzing the data, then how do you know what is working and what isn't? 
How do you know which content resonates with your target audience, or why they aren't responding as much as they should? How can you adjust your strategy accordingly if there's no way to measure it?
9. Optimize Your Bio To Increase Engagement And Clicks
Optimizing your Instagram bio is essential for maximizing engagement and clicks. Why? Because when people search for something on Instagram, they'll see your profile in the search results. Every time you post, you have the opportunity to show up in someone's feed.
If you don't optimize your bio, you'll be missing out on potential followers and lost sales opportunities. You also risk losing out on even more followers if someone finds your account but doesn't connect with what they see because of an unoptimized bio!
Here are some tips for optimizing this section so that it will increase both engagement AND clicks:
10. Update Your Profile Regularly
Since Instagram is a visual platform, it's important to keep your profile updated with content that reflects what you do. If you're launching a new product or service, share photos of the process and the finished product. 
If you've written a blog post, share an image from it in your Instagram story highlight. And if you're on social media to attract customers and build brand awareness, don't forget to share links back to your website so they can learn more about who you are and what you offer!
11. Use Stories Highlights To Promote Consistently And Keep Content Organized
Instagram Stories Highlights are the best way to promote consistency and keep content organized. If you have a business account, use Stories Highlights to share content from your posts and Stories (if applicable). 
You can also add text or a link to each of these highlights so that they appear more like a blog post than just an image.
One thing I've found with Instagram is that it's easy to fall into the trap of posting only original photos or videos without referencing what's already been posted before on other platforms like Twitter, Facebook, or YouTube. 
Use Stories Highlights as a way to create cross-platform consistency for your customers by promoting all types of posts in one place!
Enhance your Instagram marketing efforts by utilizing powerful tools that can streamline your processes and amplify your results. Discover a range of valuable resources in our article on 14 Instagram Marketing Tools You're Missing Out On, and take your marketing strategy to the next level.
12. Run More Contests And Giveaways That Everyone Can Participate In
Contests are a great way to build your brand and get people interested in what you have to offer. In addition, they're an easy way to increase engagement with followers and get more sales. 
Wishpond's contest tool makes it simple for brands to run contests on Instagram, track results, and convert leads into customers.
With Wishpond's tools, it only takes five minutes to set up an Instagram giveaway or contest — no coding required! Once you've created an account with Wishpond, follow these steps:
Create a new campaign by clicking "New Campaign" at the top of your dashboard.
Select "Instagram Contest" from the dropdown menu under "Campaign Type." If this is your first time using our platform, select "Standard" under "Campaign Type." 
We recommend creating a new campaign instead of switching between existing ones if you plan on running multiple contests for different purposes at once (i.e., one aimed at increasing sales/traffic/shares vs one focused simply on building brand awareness).
13. Share User-Generated Content (UGC) To Build Trust In Your Brand
User-generated content, or UGC, is one of the greatest ways for marketers to build trust with their audience. A good example of this would be when you post pictures of your customers using your product or showing off how much they like it.
It's a great way to show your audience what they can do with your brand and product. You might also consider asking them questions about how they use it, as well as what they think about it overall.
UGC is also a valuable tool for building rapport between you and your potential customers by giving them an inside look into the everyday world of your business and showing that you care enough to ask them questions!
14. Try Shoppable Posts Like The Ones You See Below From Sephora
Shoppable posts are a great way to drive traffic to your website. They're like a social media ad, except the image you post can be clicked on and viewers can shop for the item directly from their Instagram feed without ever leaving the platform. 
In October 2017, The Verge reported that one-third of e-commerce purchases were made via mobile devices and that number is only growing as more businesses integrate shoppable posts into their marketing strategies.
If you want to leverage this trend while staying true to your brand identity and tone, here are some tips:
15. You Can Make Instagram Work For You As Long As You Know How To Use It
Instagram is a great platform for businesses to connect with their audience. It's an ideal place to showcase your brand's personality and connect with customers while they browse through their feed. However, if you aren't doing it the right way, your efforts could go unnoticed.
To make Instagram work for you and your business, here are 19 tips for marketers using this social media marketing platform:
Transform your Instagram account into a hub for business growth by implementing effective strategies and tactics. Explore our comprehensive list of 21 Tips and Tactics for Using Instagram for Business to harness the power of this platform and achieve your marketing goals.
Conclusion
Instagram marketing can be a great way to drive traffic back to your website and help you sell more products. It's important to focus on what matters most, though you want your followers engaged with the content they see on your page. 
Use these tips to grow your follower base and increase sales by using Instagram as part of your overall marketing strategy!
Further Reading
Explore more resources on Instagram marketing to enhance your strategy:
Adoric's 15 Instagram Marketing Tips Learn valuable insights and tips to optimize your Instagram marketing efforts for greater engagement and impact.
Simplilearn's Instagram Marketing Strategy Tutorial Dive into a comprehensive tutorial that guides you through building an effective Instagram marketing strategy step by step.
Neil Patel's Instagram Marketing Tips Discover Neil Patel's expert advice on leveraging Instagram's potential to promote your brand and connect with your audience.
FAQs
How do I improve my Instagram marketing strategy?
Enhancing your Instagram marketing strategy involves a blend of creative content, consistent posting, and engaging with your audience. Focus on visually appealing posts, strategic use of hashtags, and meaningful interactions to foster growth.
What are some effective ways to increase Instagram engagement?
Engagement can be boosted by posting quality content, responding to comments promptly, utilizing Instagram Stories, running contests, and collaborating with influencers to expand your reach.
Is it essential to use Instagram Stories for marketing?
Absolutely! Instagram Stories offer a dynamic and ephemeral way to engage with your audience. Sharing behind-the-scenes content, promotions, and interactive elements in Stories can significantly enhance your brand's visibility.
How can I measure the success of my Instagram marketing efforts?
Utilize Instagram Insights to monitor metrics such as reach, engagement, follower growth, and post performance. These insights will help you understand what's working and refine your strategy accordingly.
What role do hashtags play in Instagram marketing?
Hashtags categorize your posts, making them discoverable to users interested in those topics. Incorporating relevant and trending hashtags in your posts can expand your content's visibility and attract a broader audience.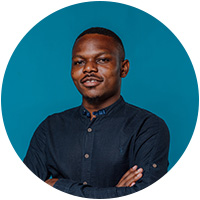 Costantine Edward is a digital marketing expert, freelance writer, and entrepreneur who helps people attain financial freedom. I've been working in marketing since I was 18 years old and have managed to build a successful career doing what I love.