If you're thinking about starting a Fitness sports blog, it's important to know what it takes to create one. There are lots of things that can go wrong when you set up your site and try to get it online. 
From designing the site itself, to making sure it runs smoothly once you publish it  there's much more involved than just picking a domain name and getting some hosting. 
But don't worry! We've put together this guide on how to create a fitness sports niche blog so that anyone can follow along and make their dreams come true…
A Fitness Sports Blog Should Have A Clean, Professional Look.
Create a blog design that is clean, professional and easy to navigate. A fitness sports niche blog should have a clean, professional look to it. It's best if your design stands out from the crowd, but not in an over-the-top way.
You will want to include things like:
A header image that represents what your blog is about
An about page or "about me" page where you introduce yourself and talk about why you started this blog
Social media links on the side bar so readers can follow you on Facebook or Twitter (or both)
You May Want To Avoid Including:
Too many ads or popups for products that don't relate directly with what you write about; when someone comes across an ad for weight loss pills on a site about running shoes they'll think twice before returning again!
Choose A Website Design That Suits Your Topic
When creating your blog, it is important to choose a design that suits your topic. You want the readers to be able to navigate the site easily, so choose a format that's easy to read and understand. The navigation should be clear and distinct from other pages on your website. It should also be easy for visitors not just to find their way around but remember where they have been as well!
Use Free Themes To Start With
They're easy to use and customize, and you can find them all over the web without having to spend any money.
There are plenty of free themes on WordPress, but also on other platforms such as Shopify and SquareSpace.
You can find free themes by searching for "free fitness themes" or "free wordpress fitness themes" in Google or by using other search engines like DuckDuckGo.
To install the theme on your website, you just need to upload the ZIP file into your WordPress dashboard under Appearance > Themes and then activate it just like any other theme would be activated (unless it needs further customization).
Use Premium Themes When You Want More Features And Options
Premium themes are more expensive than free ones, but they're worth it for the features and options they offer. Premium themes have:
More features than a starter theme, including things like sliders, contact forms, and other customizations.
Better design elements that make your blog stand out from others on the web. Premium themes can be customized to fit your brand's style and personality.
Easier-to-use admin panels with intuitive interfaces that make managing your site easy. They also have complete documentation so you know exactly what each feature does as well as tips on how best to use them in your niche blog's design or functionality (like adding in custom CSS). This will save you time in learning how to build out your niche site!
Security measures built into premium themes like HTTPS (secure) URLs with SSL certificates  – this means hackers can't access them because they don't match up with where the files actually live on their servers; it makes sure all information sent between visitors' browsers and servers is encrypted so no one else can see what's happening behind closed doors! 
Plus this let's search engines know that there aren't any nasty viruses lurking around either… which is good news for SEO rankings 😉
Use An Easy-To-Remember Domain Name For Your Fitness Sports Niche Blog
The domain name is your blog's first impression. It should be easy-to-remember, easy to spell and not too long or short. You should also avoid using a domain name that is similar to other blogs in your niche. Here are some tips:
Use an easy-to-remember URL with two words in it (e.g., "myfitnesssportsblog")
Make sure the URL contains no hyphens or underscores (e.g., "myfitnesssportsblog")
Choose A Web Host That Fits Your Needs
When you're choosing a web host, make sure to check out the following:
Is it reliable? A good host should be able to handle your website's traffic without any problems. The last thing you want is for people trying to visit your blog, only to find themselves waiting at the loading screen for an eternity.
Does it have good customer service? This can be tough if you're just starting out because most hosts won't offer free support until you've paid for hosting for at least three months (and even then, there's no guarantee). 
Generally speaking though, when it comes to picking out a new web host, look for one that has solid customer reviews. 
They should also offer live chat support and/or phone calls in case anything goes wrong with your site especially if it's something that could cause downtime or loss of data (e.g., hacking).
Does the uptime meet industry standards? You don't want someone else determining whether or not your website works well! 
A good way around this dilemma is by choosing a host whose uptime meets industry standards so at least then you know how much quality work they're putting into making their servers run smoothly 24/7 without fail every single day without fail every single day without fail…you get where I'm going with this now right?
Choose The Plan That Fits Your Needs
You're going to need to think about a couple of things before you start building your blog.
How many visitors will I have?
How many pages will my website have?
What type of files do I want to display on my website?
Do I want an email list, and if so, how big can it be?
Once you know what kind of content you want to put on your site and the amount of traffic that comes in, we can help determine which plan fits your needs.
Make Sure You Can Easily Install WordPress From Your Hosting Account
Once you've purchased a domain name and hosting plan, you'll need to install WordPress. WordPress is easy to set up if your web host supports one-click installation, but there are also other methods if your web host doesn't support it.
If your web host supports one-click installation: Go to the cPanel control panel on your server (this may be called "My Account," "Hosting" or something similar) and look for an icon that says "Install WordPress."
 Under this option, you'll see a few different ways in which you can install WordPress: using the "Staging Environment" feature, manually through FTP software like Filezilla or CuteFTP (a paid program), or by downloading an archive file from WordPress itself. 
If any of these methods work for you, follow their instructions accordingly! If none of these work for some reason (e.g., because they're not listed as options), proceed with the next step below.
If staging doesn't work: You can also install WordPress manually from within cPanel itself by following these steps:
Log into cPanel (via FTP). 2) Select 'File Manager' from under 'Upload/Download' 3) Scroll down until you see wp-admin 4) Click on it 5) You should now see what looks like a folder named public_html 6) Inside this folder will be another folder named www 7
Install WordPress On Your Server
You can install WordPress using an FTP program.
Download the latest version of WordPress from their website.
Go to your server and navigate to the document root folder, which is usually called httpdocs.
Upload all files from the WordPress zip file, including directories (folders) and files with names like index.php and wp-config-sample.php (not wp-config.php). These are not necessary for setting up your blog, but if you want them later on, go ahead and upload them now too!
Install WordPress Using A Web Host's One-Click Install Feature
Installing WordPress on your web host is the easiest way to get started. This method requires no technical knowledge, and it's much faster than manually installing WordPress.
To do this, log in to your web host account (if you don't have one yet, sign up for HostGator here). Once you're logged in, look for an option that says something like "One-click Install." If available, click on this button so that it changes color. 
Next up is choosing a domain name for your site—this should be easy if you already have one picked out! 
Finally, choose a username and password combination that will be used throughout the installation process. 
After doing this successfully once or twice (depending on which web host provider you use), they'll remember what information was saved from previous sessions and will automatically fill those fields out with each new installation request so all you need do is click submit! That's how easy it is to install WordPress using a web host's one-click install feature…
Install WordPress Using A Web Host's Staging Environment
Using your web host's staging environment is the first step to creating a WordPress site. If you don't know how to access your web host's staging environment, ask your web host for help or check their support documentation.
Once WordPress has been installed in your web host's staging environment, test that everything is working as expected by logging into your personal admin panel and clicking around on some of the different links inside of it (e.g., Posts > Add New).
Install WordPress Manually From The Cpanel Control Panel On Your Server
When you're ready to install WordPress, you can use the built-in cPanel control panel on your server. Before doing so, make sure that your hosting account has sufficient resources for what you want to do with it!
To Install WordPress Manually From The Cpanel Control Panel On Your Server
Log into cPanel as an administrator of your account and click on "MySQL Databases" in the left pane of the page (or enter phpmyadmin).
Click on "Create New Database" or "Create Database" in order to create new database(s) for use with this website and its content management system (CMS), which is going to be WordPress.
Install WordPress manually using FTP software such as Filezilla, CoreFTP or CuteFTP
The first step in creating your blog is to install WordPress manually. There are several FTP software programs that you can use to upload and manage files on your web host's hosting account. 
In this article we'll review three popular FTP software programs: Filezilla, CoreFTP and CuteFTP. Each FTP program has its own features and benefits so pick the one that works best for you!
Filezilla: This free FTP program is available for Windows and Mac OS X operating systems. The primary benefit of using Filezilla as compared to other FTP software applications is its ease of use, as well as its rich feature set with advanced customization options such as scripting support which allows users to write their own plugins using Python and JavaScript programming languages. 
Additionally, there is an online community where users can share their scripts with each other through GitHub repositories or directly inside of the application itself via built-in chat capabilities within the program window itself (which makes file transfers between two computers much faster than traditional methods).
Make Sure Your Hosting Account Has Sufficient Resources For What You Want To Do With It! 
When you sign up for a hosting account, make sure you're choosing the right size! A small account might be enough if your blog is very basic and only includes one blog post per week. 
However, it may not be enough if you want to grow your blog quickly and start adding multiple posts per day or even multiple times per hour.
If you plan on doing any sort of video streaming (like Instagram Live), then make sure that your hosting account has sufficient bandwidth and disk space for this. 
As with blogs, some people will be fine with a smaller server while others need something more robust that can support video streaming as well as other site features like email accounts and eCommerce carts.
If all this sounds confusing, don't worry—we have an awesome article about choosing the right WordPress host for you!
Conclusion
Now that you have your blog up and running, it's time to begin building your audience. You can start by sharing your work with friends and family and asking them to follow your site. 
As they do so, they'll be more likely to share it with others who might be interested in what you're doing as well.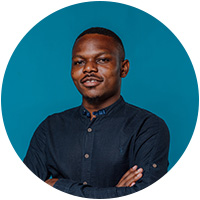 Costantine Edward is a digital marketing expert, freelance writer, and entrepreneur who helps people attain financial freedom. I've been working in marketing since I was 18 years old and have managed to build a successful career doing what I love.