You've got your eye on a job, and you need to send in your resume. But what if this is the first time you've ever written a cover letter? The good news is that there are tons of examples out there and they're all free! In this post, we'll show you how to find them and use them to craft your own winning application.
Takeaways
A well-written cover letter can make a big difference in your job search.
Your cover letter should introduce yourself, explain why you're applying for the job, and highlight your relevant skills and experiences.
Customize your cover letter for each job application, highlighting your most relevant qualifications and experiences.
Keep your cover letter concise and to the point, limiting it to one page or less.
Address your cover letter to a specific person whenever possible, using a generic salutation like "Dear Hiring Manager" if you don't know their name.
Basic Cover Letter Sample
The purpose of a cover letter is to introduce yourself and explain why you're qualified for the job. It's also an opportunity for you to differentiate yourself from other applicants by showing how your skills and experience make you a good match for the job at hand.
Crafting a cover letter that stands out can be challenging, but with the right approach, you can make a great impression. Our cover letter that can be used for any job provides a solid foundation to help you showcase your skills and qualifications.
A Good Cover Letter Will
Introduce yourself by including your name, contact information (phone number and email address), where you heard about the job opening (if applicable), and any relevant personal details that build rapport with the employer or hiring manager (e.g., if they attended your alma mater).
Highlight relevant experience that makes you a strong candidate for this position by describing specific projects or achievements that demonstrate your qualifications in relation to what's required for this role.
Reinforce key points about your experience and qualifications by providing concrete examples of how those match up with what's required in this position.
Administrative Assistant Cover Letter Sample
You will be answering phones, scheduling appointments and meetings, taking dictation from the CEO, and organizing files. You have a lot of experience with these tasks. You are also an excellent listener and have perfect spelling skills. 
You are looking for a job that will allow you to use those skills in a professional environment where you can grow as an employee and eventually move up in the company hierarchy.
You believe that this position would be ideal for you because your personality is well-suited for working in an office setting. You have already demonstrated that you are good at multi-tasking by running several businesses on your own while keeping them afloat through hard work and dedication.
You hope to secure this position because it is exactly what you want out of life – professional growth within a stable environment that allows enough personal fulfillment at home so as not to get overwhelmed with work demands outside of work hours!
Administrative Assistant Cover Letter (Text Format)
I am writing to apply for the position of administrative assistant. I am interested in this role because I have a strong background working with administrative tasks and feel like my skills would be an asset to your team.
In my current position as a receptionist, I handle all incoming calls, emails, and visitors. On top of that, I am responsible for the maintenance of our office's calendar. This involves making sure that everyone knows when their meetings are scheduled at the company and making changes as needed if anyone needs to reschedule something.
My attention to detail helps me stay organized and ensure that everything runs smoothly in the office while still maintaining excellent customer service skills with clients and visitors alike. In addition to these responsibilities, I thrive under pressure I can handle whatever comes my way!
Cover Letter For A Sales Position
A cover letter for a sales position is not much different from a cover letter for any other position. The only thing that changes is the type of company you are applying to and the skills they are looking for in their employees. 
If you're looking to apply for a job as an associate at an insurance company, then it's likely they will want someone with experience in selling insurance policies. In this case, your focus should be on how you can help their clients get more value out of their policy while making sure they receive excellent customer service at all times.
If you're applying to be an entry-level salesperson, then there may not be as many requirements since most companies would prefer someone who simply has the right attitude over someone who has been around the block before (or even worse someone who used to work somewhere else). 
However, if there are no specific requirements listed on their website about what kind of experience applicants must have or what kind of education they need then it's safe to say that employers expect some sort of levelheadedness from whoever applies and having things like common sense and good communication skills go far when selling anything!
Highlighting why you are the best fit for a company in a cover letter can be a make-or-break factor in getting hired. Our guide on writing a cover letter that explains why you are a good match offers valuable insights and tips to help you make a convincing case for your candidacy.
When Writing Your Cover Letter For A Sales Position Remember
Use bullet points instead of paragraphs if possible; this allows readers' eyes to go straight down without having "bump into" words along the way
Include keywords from the job posting or job descriptions; this helps to hire managers to find candidates based on technical requirements while also matching personalities between applicants
Accounting & Finance Cover Letter Examples
If you're a recent accounting or finance graduate looking for your first job, or a mid-career professional looking to advance your career in this field, you must create a cover letter that highlights all of the skills and attributes that make you an ideal candidate for the role. 
A good cover letter will show hiring managers how well-rounded and prepared you are for an accounting or finance job. It should also showcase your personality and professionalism.
In this guide, we'll show you how to craft an effective accounting & finance cover letter-including what makes a good one, 
What should be included in each section of your letter (and why), examples of good letters from professionals who have been successful at landing jobs using similar strategies – as well as links where readers can download templates ready-made with helpful tips from our experts!
Many job seekers wonder if cover letters are even worth the effort. The truth is, a well-written cover letter can set you apart from the competition. Find out how cover letters can help in our guide, which explores the benefits of including a cover letter with your job application.
General Accountant Cover Letter Example
The following cover letter is a great example of an accountant who wants to be considered for a general accounting position. Cover letters are often a good way to show that you have done your research about the company and understand their goals, as well as how your experience aligns with their needs. 
This template can be used by other accountants who want to apply for similar positions at other companies, or it can also be customized based on specific requirements in job advertisements.
Accountant Cover Letter Sample 1 (Text Version)
I am a team-oriented professional with proven experience in accounting and management. As an accountant, I have worked for companies that range from small to large.
My background includes accounting and auditing in the manufacturing, mining, and retail industries. I also have training in strategic planning, financial analysis, and budgeting.
In my current position as an assistant controller at ABC Company Inc., I provide financial reporting services to executives within the organization's executive suite as well as prepare monthly financial statements for both external stakeholders (banks) and internal stakeholders (managers).
Additionally, I manage several key areas: accounts receivable/payable; payroll; fixed assets general ledger reconciliations
Cash flow forecasts; analysis of financial reports submitted by managers within our company every month to ensure accuracy of data presented therein before posting them into our general ledger system; preparation of quarterly tax returns including sales/use tax returns using QuickBooks Premier edition software program
Internship Cover Letter Example
The cover letter example below is an excellent template you can use when applying for internships. When writing your cover letter, be sure to use a friendly tone and explain why you are the right candidate for the job. 
You should also make sure that you include all relevant information about yourself, such as your name, address, phone number, and email address at the top of your letter. 
Additionally, make sure that it contains a professional greeting such as "Dear Mr./Ms." or "To Whom It May Concern" followed by an opening sentence explaining what position you are applying for and why it interests you.
The next section of this template will ask if there is anything else they should know about before deciding whether or not to hire you for their company; 
This is where it would be good for them to know about any experience working with similar companies to give them confidence that hiring people from outside sources doesn't mean sacrificing quality work because sometimes great employees never come from within."
Writing a compelling cover letter can be a challenge, especially if you're not sure where to start. Our guide on how to write a cover letter offers practical advice and step-by-step instructions to help you create a standout cover letter that gets noticed.
Internship Cover Letter (Text Format)
Dear [name of interviewer],
I am writing to apply for a position as an intern at your organization. I am interested in learning more about your company, and particularly hope this internship will provide me with opportunities to explore the field of accounting.
I have always been fascinated by the financial world, and I want to work toward obtaining my Certified Public Accountant (CPA) designation. 
As a result, I am seeking an internship that will allow me to gain valuable experience in the field while pursuing my educational goals. 
My experience working as an administrative assistant at XYZ Corporation has given me valuable skills such as time management and excellent written communication. This makes me confident that I can contribute positively to your company's efforts during my internship with you.
Government Job Cover Letter Template
A government job cover letter is a formal way of introducing yourself and explaining why you're qualified for the position. It should be written in business language that doesn't sound like it came from a résumé template.
You can use this cover letter as a guideline to write your own, but make sure to adjust it according to your situation. You could also use this template as an example if you want some help with how to write yours!
Office Manager Cover Letter Examples
The office manager cover letter sample below is an example of a strong candidate emphasizing their experience as well as what they can offer to a potential employer.
Dear Sir/Madam,
I am writing to apply for the Office Manager position that has been advertised on [insert job site]. I have over ten years of experience working in the field and would be delighted to take on this exciting opportunity at your company. 
My background includes managing all aspects of office administration, including payroll, accounts payable and receivable, purchasing supplies for staff members, and ensuring that the workplace is clean and safe for everyone who works there.
I am also well versed in dealing with people from different cultures around the world, this will be important when working with foreign colleagues if you are located outside [insert country].
Business Operations Manager Cover Letter Sample (Text Version)
A cover letter is an essential part of your job application, but it's also one of the most challenging parts. A good cover letter can be the difference between landing an interview and not getting a callback, so make sure you've got yours down.
Below are some tips on writing a cover letter that can be used for any job:
Tailor your cover letter to the job you're applying for. Make sure the information in your resume lines up with what's written in the body of your cover letter.
Keep it brief two pages tops! Make sure that every paragraph has its purpose; don't ramble on or repeat yourself unnecessarily.
Write like you speak (in the third person). This sounds weird but trusts me you'll sound more professional if you write as though someone else is reading what you've written instead of just yourself looking back at it months later and thinking "wow this was bad."
Customer Service Representative Cover Letter Sample & Guide [10+ Examples]
A customer service representative's cover letter should be formatted correctly to get noticed by employers. Include a personal introduction, a brief overview of your skills and experience, and a call to action.
The best way to write this type of cover letter is by starting with an attention-grabbing opening line that will instantly draw the reader in (but not too attention-grabbing). 
You can also tell them about how you want to work for the company and why you think you'd make a great fit for their open position. Finally, end with another reminder about how interested you are in working for their company!
If you're applying for jobs online or over email, remember that hiring managers often skim through dozens of applications at once so make sure yours stands out by having these 5 key elements!
Entry-Level Cashier Resume Sample & 4 Writing Tips
When writing a cover letter, you should use the same tone and voice as you would in your resume. This will help to ensure a consistent message on both documents. Your best bet is to write your cover letter as if it were part of your resume.
Your cover letter is an extension of your resume, so keep that in mind when writing it. When composing a new document or revising an old one, always ask yourself: What do I want this document to accomplish? How can I best achieve that goal? Only then should you begin drafting the content.
Once again: be specific about what job you're applying for and why (and even if) they should hire you for it!
One common question job seekers face when writing a cover letter is how to explain why they want to work for a particular company. Our guide on why do I want to work for this company provides useful tips and strategies to help you convey your enthusiasm and showcase your fit for the company culture.
Human Resource Manager Resume Template & Example [+ Job Description]
Human Resource Manager Resume Template & Example [+ Job Description]
When writing your resume, it's important to include as much information as possible. But it can be challenging to know exactly what you should include and how. The following human resource manager resume template is a great place to start because it shows you an example of the type of content that would be relevant for this job.
The sample below includes many of the most common sections you'll find on HR resumes:
Role Summary – A summary of what it means to be an HR manager (and why this position is different from others)   * Qualifications – Specific requirements associated with the job (e.g., education level)   * Skills – Skills required for success in this role, as well as examples from past work experience.Copyright © 2019 USMD Inc.
Human Resources Coordinator Resume Example & Template [+ Guide]
This is a sample Human Resources Coordinator cover letter. It can be used to apply for the job of Human Resources Coordinator or a similar position.
You can also use our HR Manager resume template, which is another great option if you're looking to make your application stand out.
Conclusion
As you can see, there are many different types of cover letters available. Each one is designed to help you get the job that you want, but they all have something in common: they must be written with care and attention to detail. 
If your letter doesn't have this quality then it will not be effective at all! So take some time to make sure that everything is perfect before sending off your application materials so that when hiring managers do read them they'll be impressed by what they find inside
Further Reading
Here are some additional resources to help you improve your cover letter writing skills:
How to Write a Cover Letter: Expert Tips & Free Templates – This comprehensive guide offers practical advice and templates to help you create a standout cover letter that showcases your skills and qualifications.
How to Write a Cover Letter: A Step-by-Step Guide – This step-by-step guide breaks down the cover letter writing process into easy-to-follow steps, with tips on how to tailor your cover letter to the job you're applying for.
45+ Cover Letter Examples & Samples for All Industries – This collection of cover letter examples offers inspiration and guidance for job seekers in various industries and at different career stages.
FAQs
What should be included in a cover letter?
A cover letter should introduce yourself, explain why you are applying for the job, highlight your relevant skills and experiences, and express your enthusiasm for the position and company.
How long should a cover letter be?
A cover letter should be one page or less. It should be concise and to the point, highlighting your most relevant qualifications and experiences.
Should I address my cover letter to a specific person?
Whenever possible, address your cover letter to a specific person, such as the hiring manager or recruiter. If you don't know the person's name, use a generic salutation like "Dear Hiring Manager."
Do I need to customize my cover letter for each job application?
Yes, it's important to customize your cover letter for each job application. Tailor your letter to the specific job and company, highlighting your relevant qualifications and experiences.
Should I include my salary requirements in my cover letter?
No, it's generally not recommended to include your salary requirements in your cover letter. It's better to discuss salary during the interview process, once you have a better understanding of the job requirements and responsibilities.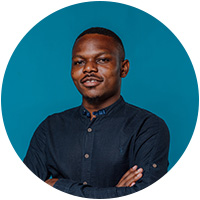 Costantine Edward is a digital marketing expert, freelance writer, and entrepreneur who helps people attain financial freedom. I've been working in marketing since I was 18 years old and have managed to build a successful career doing what I love.