You've put in the work to build a community around your business. You've done the hard work of establishing yourself as an industry expert and creating content that people love. Now, you have to show up and let people know that you're there. 
In this post, we'll walk through how to hire a social media management firm (SMMF) that will best fit your needs so you can focus on growing your audience rather than worry about which hashtags to use when posting about your latest product launch:
Takeaways
1. Look for firms with a genuine passion for social media and client success.
2. Prioritize firms that offer tailored strategies aligned with your business goals.
3. Evaluate the firm's track record and client testimonials for evidence of care and commitment.
4. Choose a firm that emphasizes clear communication and collaboration.
5. Don't hesitate to ask about their approach to addressing client concerns and adapting strategies.
6. Seek firms that stay updated with industry trends and algorithm changes.
7. Consider firms that offer transparent reporting and measurable results.
8. Trust your instincts when assessing the firm's dedication to your brand's success.
1.Schedule A Free Strategy Session With The Firm
You'll want to find a social media management company that has the time and resources to dedicate to your account, but how do you know which one is right? You can start by setting up a free strategy session with each firm on your shortlist. 
During this meeting, they'll get an understanding of what you're looking for, ask questions about your company's goals and challenges, and discuss their process further by providing an overview of their services. 
If after this conversation (or any others throughout the hiring process) it becomes clear that this particular agency isn't a good fit for you, no harm done; there are plenty more out there!
Optimizing your Facebook business page is crucial for attracting and engaging your audience. Learn effective strategies to enhance your page's performance in our guide on Tips to Optimizing Your Facebook Business Page.
2. Look At The Social Profiles Of Your Social Media Manager
Once you've identified a few candidates, take a look at the social profiles of your top picks. You should be looking for two things:
How they interact with people
A good social media manager engages with their followers and cares about what their audience wants to see. They won't just respond to messages, they'll go out of their way to help people out and build relationships. 
If someone asks them a question or makes an observation, they'll acknowledge it by name rather than just replying "thanks" or something similarly impersonal. 
Your potential hire's LinkedIn profile will also be useful here it can tell you if they're willing to spend time helping others learn more about the industry (and if so, how).
3. Ask About Their Portfolio
A social media management firm's portfolio is the most important part of their website and your first indication as to whether or not you should continue doing business with them.
They should have:
A series of case studies that highlight success stories and how they were achieved (including data on increases in traffic, leads, sales, etc.)
A variety of samples from past clients (a mix of small-scale businesses like yours along with larger ones) so that you can get an idea of how they would work with you specifically.
An overview of their process including a list of tools and other resources they'll use to manage your account(s).
Gain insights from a decade of experience with our collection of Social Media Management Hacks gathered over the years. These practical tips can help streamline your social media efforts and boost your online presence.
4. Review The Firm's Website And Blog Posts For Information About Their Process, Tools, Etc
You can learn a lot from a social media management company's website. Look for information about the specific tools they use to manage your account (i.e., Hootsuite).
How they respond to comments (i.e., with an auto-reply or by having someone on staff respond), what their rates are (i.e., $500 per month), how they handle invoicing and reporting work hours or tweets sent/accounts managed/etc…
5. Check Out The Experience Level Of Your Social Media Manager, As Well As Their Personality Type On A Platform Like 16personalities To See If They Would Be A Good Fit For You And Your Team
In addition to being able to identify a good fit for your business and personality, 16Personalities can help you find the right social media manager for the type of person that you are. 
For example, if you're an introvert like I am, then it's important to find someone who has a lot of patience because I need more time than most people before I'm comfortable speaking up or sharing my opinion. 
On top of this useful insight into what kind of person you are and what kind of work environment will best suit your needs as well as your employees.
16Personalities also scores candidates on their personality type which means that if they have an opposing personality type (like Extroverted vs Introverted), then it just won't work out!
This is why we recommend checking out our user guide on how to use 16Personalities before starting your hiring process: https://www.16personalities.com/userguide!
6. Ask About Their Rates And How They Handle Invoicing And Reporting Work Hours
Finally, you'll want to check the company's rates and make sure they fit within your budget. Pay attention to how they handle invoicing and reporting work hours, as well as taxes, expenses, overtime, and travel costs. 
You should also ask if they provide project management services for clients so that you can get an idea of what kind of process is involved in hiring them for a new job or campaign.
Are you an entrepreneur or startup owner looking to master social media management? Discover the essentials for success in our guide to Social Media Management for Startups and Entrepreneurs, tailored to help you navigate the digital landscape.
7. Ask What Communication Channels They Provide Between Clients And Employees (Email, Phone, Text Messaging, Instant Messaging)
Communicating with your social media manager is a vital part of the relationship. You want to know how you'll be able to reach them and what kind of information you should expect in return. 
A good manager will have multiple ways of communicating with their clients, including email, phone, text messaging, instant messaging, and conference calling. 
Some may also offer video conferencing services if it's relevant to your business. It's important to ask about how they handle communication between managers before hiring one.
Because this can help avoid misunderstandings down the road when it comes time for feedback or instructions on posting content on social media accounts.
8. Ask The Firm Which Social Networks They Use To Manage Client Accounts, Whether Or Not They Are A Third-Party Platform Like Hootsuite Or Sprout Social (And If So Why)
Ask the firm which social networks they use to manage client accounts, whether or not they are a third-party platform like Hootsuite or Sprout Social (and if so why). 
If you're hiring a company that doesn't use any third-party platforms, it's in your best interest to find out why. If they can't provide an adequate response, consider going with another candidate.
9. Find Out What Type Of Content Strategy They Use To Manage Client Accounts (And If So Why)
A content strategy is a way you plan to create and manage content on social media networks.
When it comes to managing client accounts, you'll want to know if your potential agency is using an editorial calendar. 
This is a simple tool that gives them a clear picture of what needs to be posted and when. It also ensures they're not posting too much or too little at specific times of day, which can help keep followers engaged with your brand's message.
Juggling multiple social media accounts can be a challenge. Simplify your management process with our recommended list of The Best Apps to Manage Your Social Media Accounts, designed to optimize your efficiency and effectiveness.
10. Ask Them How They Plan To Implement New Content Types Such As Videos Into Your Online Presence On Social Media Networks (And If So Why)
It's not enough to just ask the question. You should also try to understand their responsibilities and how it relates to your brand and business objectives. For example:
Ask about their experience with videos and what do they like about them? What don't they like about it? What are some tips for creating great videos? How does this apply to our business goals?
Ask about their experience with live videos what do they think of live streams vs pre-recorded videos; 
What are some best practices for setting up a live stream; and why should we consider using this feature if we haven't before (because there's research showing that people love watching live streams).
11. Ask Them What Strategies Do They Employ When Responding To Negative Comments From Customers Or Others On Social Media Networks? (And If So Why)
Be respectful and courteous
Apologize and correct the mistake
Be transparent. Be honest about how you plan to fix the problem, when it will be fixed, and what you are going to do in the future so that it doesn't happen again.
Be open and honest with your customers if you make a mistake on social media. If they can't trust that they're getting an honest response from you as a brand, then they'll stop listening altogether!
Empathize with your customers by acknowledging their feelings and concerns (even if those feelings aren't exactly what you'd prefer). 
Don't dismiss them or try to argue with them about whether or not something is offensive – just listen! That way everyone can move forward into problem-solving mode instead of getting stuck in an argument about who's right/wrong.
Harness the power of social media as an investment for your business growth. Discover the compelling reasons why you should consider allocating resources to social media in our article on Why You Should Invest in Social Media, and unlock the potential benefits it offers.
Conclusion
A social media management firm that cares about your business will be willing to work with you on a trial basis. They will also be able to demonstrate how they plan on helping you grow your business. Any firm worth it's salt should be able to do this and more!
Take some time out today and find out more about these people who could help you grow your brand online by contacting them directly through their website or social media channels.
Further Reading
Here are additional resources to further your understanding of hiring social media managers:
How to Hire a Social Media Manager: A Step-by-Step Guide Short Description: Learn the detailed steps and considerations involved in hiring a social media manager for your business.
The Ultimate Guide on How to Hire a Social Media Manager Short Description: Explore a comprehensive guide that covers the essential aspects of hiring a competent social media manager.
Hiring a Social Media Manager: Everything You Need to Know Short Description: Delve into key insights about hiring a social media manager, from skillsets to interview strategies.
FAQs
How can I effectively hire a social media manager?
To ensure an effective hiring process for a social media manager, start by defining clear job roles and responsibilities. Look for candidates with a strong track record of social media management and a deep understanding of your brand's industry and audience.
What skills should I look for in a social media manager?
A proficient social media manager should possess skills in content creation, social media strategy, analytics, and community management. They should also be adept at using social media management tools and staying updated with industry trends.
How do I assess a candidate's experience in social media management?
During the hiring process, review a candidate's portfolio and past campaigns. Request examples of their work, such as successful social media campaigns, content calendars, and engagement metrics, to gauge their practical experience.
What interview questions should I ask when hiring a social media manager?
Consider asking questions that showcase a candidate's strategic thinking and problem-solving abilities. Inquire about their experience in crisis management, handling negative feedback, and adapting to platform algorithm changes.
What role does collaboration play in social media management?
Collaboration is essential in social media management, as it often involves working with cross-functional teams like content creators, designers, and marketing professionals. A social media manager should be skilled in fostering teamwork and effective communication.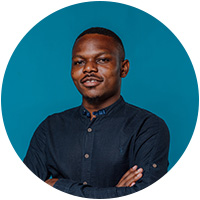 Costantine Edward is a digital marketing expert, freelance writer, and entrepreneur who helps people attain financial freedom. I've been working in marketing since I was 18 years old and have managed to build a successful career doing what I love.